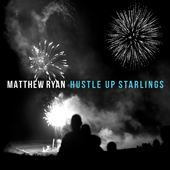 Blessed with a particularly attractive rasp of a voice, singer-songwriter and rock'n'roller MATTHEW RYAN is out to excite his fans and well-informed critics with his brand new Blue Rose album Hustle Up Starlings. It's a powerful comeback album and follow-up to the much-lauded Boxers, released in 2014, also on the label located in the South of Germany. Hustle Up Starlings is Ryan's 13th release since his debut album May Day in 1997 announced him as one of the most promising acts in the Springsteen-meets-Westerberg-folk-rock-songwriter camp.
If you go back to reading the accolades that practically every Matthew Ryan album received, it seems hard to grasp why he hasn't broken through on a bigger scale yet. Even in 2017 Matthew Ryan should be a household name when it comes to moving, hand-made, intelligent, accessible Americana rock delivered in a very special sandstone voice.
Is Hustle Up Starlings another critics' darling that's going to earn rave reviews and make it onto year-end favorites lists – or could it possibly achieve more? The conditions seem right for a success story.

Born and raised on the US East Coast (Pennsylvania, Delaware) Matthew Ryan moved into the East Nashville indie scene in the mid-90s. His first, promising albums May Day (97) and East Autumn Grin (2000) were released by a major label (A&M) before the record industry's situation changed drastically. Until 2010 Ryan released seven albums, some of them by himself, among them very well-received records like Concussion (2001), Regret Over The Wires (2003) and Matthew Ryan Vs. TheSilver State (2008). Disillusioned by unsatisfactory sales, Ryan announced that his 2012 album In The Dusk Of Everything would be his last. He left Nashville for East Pennsylvania. As luck would have it, there he met and became friends with Brian Fallon, frontman of folk/punk/indie rockband Gaslight Anthem. Soon thereafter, they started collaborating creatively.
Fallon booked Ryan to open the Gaslight Anthem tour and was happy to play guitar with him. But Ryan got inspired and started dreaming of more. In 2014 he released the terrific Boxers on Blue Rose, an album harking back to his May Day days. Produced by Kevin Salem (Dumptruck, Todd Thibaud, Freedy Johnston, Giant Sand) and featuring Salem and Fallon on electric guitars, Ryan rocked his way back into the hearts of everyone who doesn't consider Bruce Springsteen and the Replacements, Leonard Cohen and The Jam, or Bob Dylan and The Clash mutually exclusive but drawing from the same well where rock'n'roll and the singer-songwriter spirit meet.