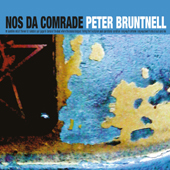 If you ask the likes of Peter Buck, Scott Mccaughey, Willy Vlautin, Jay Farrar, John Murry or Kathleen Edwards they'll all agree that
Peter Bruntnell
is a writer with rare and mysterious qualities, as a result of which Peter has toured extensively with Son Volt, Kathleen Edwards and Richmond Fontaine at the request of the artists.
When NME claimed that "Peter Bruntnell's records should be taught in schools", they were referring to the particular appeal of the quiet Devonian's songwriting craft. This new record returns emphatically to the earliest days of Bruntnell's career, a full-on electric psych-rock experience.
Recorded between February and June 2015 and self-produced by Peter, Nos Da Comrade (which means "Good Night Comrade" in Welsh) was recorded in Bruntnell's home studio in deepest Devon, and in the village hall in the idyllic village of Mortehoe, where the band simply set up and blasted out the tunes: Mick Clews (drums), Peter Noone (bass), James Walbourne (guitar), Dave Little (guitar), Dai Godwin on backing vocals and Peter Linnane (mastering engineer) on string machine.
Peter Bruntnell has a unique 'way with a tune' like no other contemporary artists. The most interesting thing about his music, and part of the reason for his devoted following, is the indefinable knack the songs have of locking into one's emotions in an elusive, intangible but deeply affecting way.