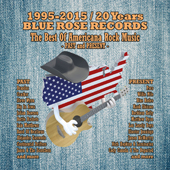 Blue Rose Records feiert 2015 sein 20-jähriges Jubiläum! Seit dem Start Mitte 1995 mit gleich drei Alben von Kate Jacobs, Pete Wells (Rose Tattoo) sowie den Continental Drifters stellte sich ein neues Label vor, das das musikalische Genre Roots Rock, Guitar Rock, Folk Rock oder auch Southern Rock bedienen wollte und sich innerhalb von nur wenigen Jahren zu einem der angesagtesten Plattenlabels Europas dieses Genre entwickelte. Zwischenzeitlich wurde der Überbegriff "Americana" gesellschaftsfähig und auch offiziell als Genre-Abgrenzung in der Musiksparte "Rock" anerkannt.
In den 20 Jahren der Labelgeschichte wurden über 550 Künstler-Alben bei Blue Rose veröffentlicht, über 100 weitere "Various Artists"-Compilations kommen hinzu. Die auf 2 Teile ausgelegte Doppel-CD-Ausgabe 20 Years Blue Rose Records – The Best Of Americana Rock Music erscheint im Frühjahr und im Herbst 2015, wobei eine CD jeder Ausgabe Titel aus den Anfangsjahren bis hin zur jüngsten Vergangenheit enthält (betitelt "The Past") und die das Gesicht des Labels geprägt haben, darunter 18 Musiker und Bands wie etwa Steve Wynn, The Brandos, The Band Of Heathens, Todd Thibaud, Continental Drifters, Gov't Mule, Iain Matthews, Bottle Rockets, Big In Iowa, Julian Dawson, Elliott Murphy, Joseph Parsons oder Tom Gillam.
Die zweite CD des Doppelpacks unter dem Motto "Present" enthält 17 Songs von Künstlern und Bands, die in den letzten beiden Jahren entweder neu zu Blue Rose gestoßen sind oder aktuelle Alben veröffentlicht haben, darunter David Grissom, Paul Thorn, Micky & The Motorcars, Blue Rodeo, Poco, Matthew Ryan, Willie Nile, Los Lonely Boys, Shooter Jennings, James McMurtry, Rich Hopkins & Luminarios, Reckless Kelly, Cody Canada & The Departed oder Hank Shizzoe.
Die Doppel-CD zum Super-Sonderpreis enthält ein 16-Seiten-Booklet mit der Geschichte von Blue Rose Records. Die Erstpressung enthält zudem als besonderen Gimmick ein 3D-Cover.