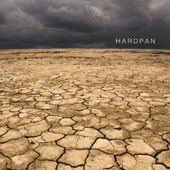 When four singer-songwriters like TODD THIBAUD, CHRIS BURROUGHS, TERRY LEE HALE and JOSEPH PARSONS record an album together – all of them successful solo artists on Blue Rose or Glitterhouse – it doesn't feel far-fetched to call them a supergroup. They met on the road on various tours of Germany and realized that they get along well and have – in spite of differing styles and personalities – and undeniable chemistry.
On September 10, 2001 they met in Tucson, Arizona to record an album. But only hours later, other, bigger events came into focus. And yet, since they only had ten days together, they pushed the horrific scenes from New York aside. Maybe that is why they created such a homogenous, emotional and moving singer-songwriter album to which each of them contributed original songs and lead vocals. It was the birth of HARDPAN.
All of this happened 16 years ago. Because they all had their individual careers they did not have time to even consider a follow-up album. It was only when they played together at the Blue Rose Christmas Party at the Isernhagen Blues Garage in 2013 that the thought occurred to them. It took another three years until their schedules allowed them to come together in New Jersey early in 2017 to record a new studio album.
Since they did not plan to stray too far from the typical Hardpan sound, they focused once again on the artists' vocals and their interplay, embellished by unobtrusive instrumentation and subtle drumming. The new album features twelve new songs – each member contributed three original songs on which they took over the lead vocal. Four musicians, four different voices and different vibes create a unified atmosphere that very few solo artists achieve – that's the Hardpan sound.