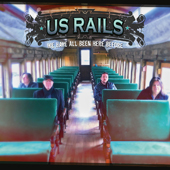 Fünf befreundete amerikanische Musiker hatten sich Ende der letzten Dekade aufgemacht, zusätzlich zu ihren eigenen, teilweise schon jahrelang andauernden Solokarrieren ein gemeinsames Ding zu starten, von dem sie überzeugt waren, dass es etwas Großes werden könnte. Nur wenig später gehörten US RAILS praktisch schon zu den "Klassikern" auf dem Blue Rose Label und veröffentlichen mittlerweile bereits ihr fünftes Studioalbum. We Have All Been Here Before heißt das gute Stück und unterscheidet sich von den vier Vorgängern US Rails (2010), Southern Canon (2011), Heartbreak Superstar (2013) und Ivy von 2016 doch erheblich. Was tut man als Künstler, wenn eine Tour ansteht, man dazu ein neues Album im Gepäck haben sollte und nicht genügend eigene neue Songs in petto hat? Genau, man durchforstet den unendlichen Fundus an passenden Songs anderer Songwriter, um dann eigene Arrangementideen einfließen zu lassen und Coverversionen ein Eigenleben zu geben. Meist funktioniert das nicht, doch bei der Auswahl von Tom Gillam, Ben Arnold, Scott Bricklin und Matt Muir gelingt das prächtig, haben doch alle vier Bandmitglieder offensichtlich "ihre" Songs ausgewählt und so interpretiert, wie sie auch eigene Songs produziert hätten.
We Have All Been Here Before enthält mit 11 Stücken eine kunterbunte Mischung weltbekannter und weniger bekannter Stücke der Rock- und Pop-Geschichte. Ob die Auswahl alle vier gemeinsam getroffen haben, ist nicht bekannt und auch unerheblich, und doch kann man vermuten, dass Songs wie "Poor Poor Pitiful Me" von Warren Zevon, "So Into You" von der Atlanta Rhythm Section oder auch die durch die Derek Trucks Band wiederbelebte alte Blues-Nummer "I'd Rather Be (Blind, Crippled And Crazy)" Tom Gillam zugeschrieben werden können, treffen sie doch voll das Mark dessen musikalischer Vorlieben. Ben Arnold wiederum hat die Lead Vocals bei Neil Young's "Everybody Knows This Is Nowhere" und "Put The Message In The Box" von Karl Wallinger's Band World Party übernommen, ein klares Zeichen dafür, wessen Idee diese Auswahl war. Scott Brickin ist ein erklärter Beatles-Fan – "You've Got To Hide Your Love Away" könnte sein Vorschlag gewesen sein. Nicht nur ein ausgezeichneter Drummer, sondern auch mit einer wunderbaren Gesangsstimme versehen ist Matt Muir, und so dominiert er bei den Nummern "Second Hand News" aus dem Fleetwood Mac-Klassiker Rumours und beim abschließenden Jackson Browne-Meilenstein "Running On Empty".
Dass alle Musiker der US Rails großartige Songwriter sind, müssen sie nicht mit jedem neuen Album beweisen. We Have All Been Here Before ist eine herrlich frische "Zwischendurch"-Platte, die die Wartezeit auf ein weiteres Album mit eigenen Stücken angenehm überbrückt.