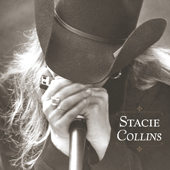 Sie ist einer der Lieblinge von Dan Baird, dem coolen Rocker, der die Georgia Satellites an die Spitze der Charts geführt hatte. Sie ist einer der Lieblinge von Warner E. Hodges und Jason Ringenberg von Jason & The Scorchers, die den Cowpunk erfunden haben. Ihr Ehemann, Co-Songautor und Co-Produzent ist Al Collins, der auch in Collins' Band The Almighty Three mitwirkt.
Aber Warner und Jason stehen nicht auf STACIE COLLINS wegen ihrer Verwandtschaft. Sie stehen auf sie, weil sie ein Badass ist, ein toughes, echtes Rock Chick.
Die Verwandlung von einem hübschen Country Girl zu der heutigen Rockröhre vollzog sich irgendwo zwischen dem selbstbetitelten Debutalbum aus dem Jahr 2000 und dem Nachfolger Lucky Spot. Sieben Jahre lagen zwischen diesen beiden Veröffentlichungen, einen maßgeblichen Anteil an dieser musikalischen Transformation hatte zweifellos der oben erwähnte Dan Baird, der nicht nur Lucky Spot, sondern auch das dritte Album Sometimes Ya Gotta von 2010 produziert hatte.
Ein sympathischer Schatten der frühen Emmylou Harris liegt über den im Teamwork mit Ehemann Al Collins komponierten 12 Stücken des Debuts von 2000, das lediglich in einer kleinen Auflage als Privatpressung erschienen war und heute ein sehr gesuchtes "Collectors Item" ist. Jetzt, 18 Jahre nach dem erstmaligen Erscheinen, liegt eine Neuauflage vor, die neben den ursprünglichen Songs sieben bisher unveröffentlichte Bonustracks enthält.
"