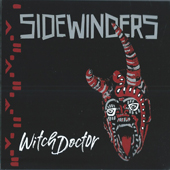 Eine ruppig-roh und staubig-trocken klingende Combo namens SIDEWINDERS startete von Tucson aus ihren vermeintlichen Siegeszug, der nach drei vorzüglichen Alben jäh endete, weil man den Bandnamen nicht mehr verwenden durfte. Also ging's in derselben Besetzung unter der neuen Marke SAND RUBIES weiter und 1993 wurde ein letztes Major Label-Werk veröffentlicht, das musikalisch nahtlos an die Sidewinders-Ära anknüpfen konnte. Allerdings scheiterte man an internen Querelen und Rich Hopkins startete alleine durch mit seinen Luminarios.
Sowohl die CDs der Sidewinders als auch die CD der Sand Rubies sind schon seit vielen Jahren nicht mehr erhältlich, jetzt endlich gibt es unter der Regie von Rich Hopkins das 2. Album der Sidewinders, Witchdoctor, sowie das erste Album der Sand Rubies in einem opulenten 6-Seiten-Digipak. Das ist schon großartig genug, aber die Krönung sind insgesamt 9 Bonustracks, zum Teil bisher auf keinem Tonträger erschienen, darunter "I'm Not Wth You Anymore", das Love-Cover "Singing Cowboy" sowie eine Akustik-Version von "If I Can't Have You", später zu finden auf dem dritten Sidewinders-Album Auntie Ramos' Pool Hall. Aus dem Sand Rubies-Album The Return Of The Living Dead wurden die Stücke "Paper Thin Line", "Stranger In Town" sowie "Mary" entnommen, die Covers von "Grey Riders" (Neil Young), "Nature's Way" (Spirit) und "When The Time Comes" (Tom Petty) stammen aus dem Sand Rubies-Album Release The Hounds, das 1999 auf Blue Rose erschienen war. Umrahmt wird diese wunderbare Wiederveröffentlichung durch ein informatives 16-Seiten-Booklet mit raren Photos und informativen Liner Notes von Rolling Stone-Schreiberling Robert Baird.
Wir haben eine begrenzte Anzahl an Exemplaren exklusiv für den Blue Rose-Mailorder erhalten, Eile ist also geboten!