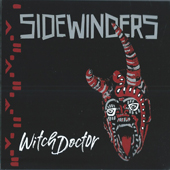 A rough, raw and dusty-dry sounding combo called SIDEWINDERS started their supposed triumphant march from Tucson Arizona, which ended abruptly after three excellent albums because the band name was no longer allowed to be used. So things continued with the same line-up under the new SAND RUBIES brand and in 1993 one last major label work was released, which musically continued seamlessly with the Sidewinders era. However, they failed due to internal quarrels and Rich Hopkins started off alone with his Luminarios.
Both the Sidewinders CDs and the Sand Rubies CD have not been available for many years, now finally, under the direction of Rich Hopkins, the Sidewinders' 2nd album, Witchdoctor and the Sand Rubies' first album, are available in one opulent 6-page digipak. That's great enough, but the crowning achievement is a total of 9 bonus tracks, some of which have not yet been released on any recording medium, including "I'm Not Wth You Anymore", the Love cover "Singing Cowboy" and an acoustic version of "If I Can't Have You", later found on the third Sidewinders album Auntie Ramos' Pool Hall. The tracks "Paper Thin Line", "Stranger In Town" and "Mary" were taken from the Sand Rubies album The Return Of The Living Dead, The covers of "Grey Riders" (Neil Young), "Nature's Way" (Spirit) and "When The Time Comes" (Tom Petty) come from the Sand Rubies album Release The Hounds, which was released on Blue Rose in 1999. This wonderful re-release is framed by an informative 16-page booklet with rare photos and informative liner notes by Rolling Stone writer Robert Baird.
We have a limited quantity available for the Blue Rose mailorder while supplies last so don't wait too long!