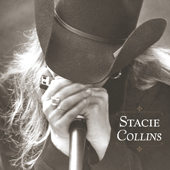 She's a favorite of Dan Baird, a Chuck 'n' duck rocker who took the Georgia Satellites to chart-topping heights. She's a favorite of Warner E. Hodges and Jason Ringenberg of Jason & the Scorchers, who invented country-punk music. Her husband, co-writer, and producer, Al Collins, plays bass these days for the Scorchers, but Scorcher-dom isn't cause for fandom.

Warner and Jason don't like STACIE COLLINS 'cause she's related. They like her 'cause she's badass.
The transition from the nice looking country girl to the "Harp Howlin' Twang Bangin_ Rock'n'Roller" happened sometime between the self-titled debut album from 2000 and the follow-up Lucky Spot. A seven year gap was between these two releases, a very important part of that musical transition played the before-mentioned Dan Baird who not only had produced Lucky Spot but also Collins' third album Sometimes Ya Gotta from 2010.
A sympathetic shadow of the young Emmylou Harris is laying over all the twelve debut album tracks from 2000 which were written with husband Al Collins. The album was released independently and soon became a collectors item. Now, eighteen years after the initial release, a new edition is available with all the original songs plus seven previously unreleased alternate versions.
"