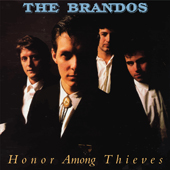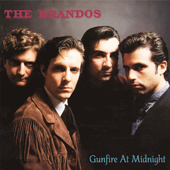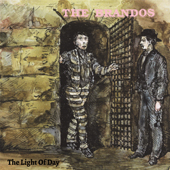 Blue Rose Records will be releasing the entire pre-Blue Rose catalog of the Brandos on CD, vinyl and digitally! The first batch of three CDs will be out on May 25, followed by another three on June 22 plus two more on July 20 . Vinyl copies will be available in August.
THE BRANDOS owe their name to their love of Marlon Brando. Their fans know them as one of the most vital American live rock bands of the 20th century's final decades. THE BRANDOS, known for timeless classics like "The Solution" and "Gettysburg" and their straight and true rock sound, were founded in 1986 with the line-up of David Kincaid (voc, g, mand, banjo), Ed Rupprecht (g), Larry Mason (dr) and Ernie Mendillo (b, voc) in New York City.
In October 1986 the band went in the studio to record the album Honor Among Thieves.The album spent 19 weeks in the Billboard charts and peaked at No.108 in late October. During this period, the band began touring the U.S. and Europe, opening for well-known bands such as The Georgia Satellites, INXS, The Cars and The Alarm. Their first video was released and was placed in medium rotation on MTV. The favorable reviews began to pour in: the Gavin Report dubbed them "Best new American band", Rolling Stone magazine ran a full-page story describing them as "Real contenders", and Time magazine clinched it with their quote "The Brandos' roots run deep and offer great nourishment". In early 1988, the band won Best Album (Independent Label), and Kincaid was honored with Best Male Vocalist (Independent Label) at the New York Music Awards.
The year 1991 was spent writing and recording new material for a new album that would become Gunfire at Midnight, which would land a contract with SPV GmbH in Germany in the spring of 1992. Two singles from the album ('The Solution' and 'The Keeper') would reach the top 100 in the Netherlands. Extensive touring in Europe would follow, solidifying the band's fan base even further, however Rupprecht and Mason decided to leave the band in 1993.
Ed Rupprecht left the band during the recording sessions for the band's third album, and The Light Of Day was finished with the help of a few friends, especially ex-Del Lords members Scott Kempner (guitar, vocals) and Frank Funaro (drums, vocals). They filled out the live band, and an extensive European tour followed.