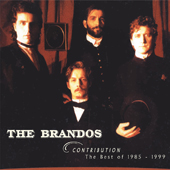 Seit nunmehr über 30 Jahren begeistern
THE BRANDOS
mit handgemachtem Rock & Roll, der bluesgetränkte Gitarrenattacken enthält, gemischt mit Country- und Folk-Anleihen, die tief in der amerikanischen Musiktradition verwurzelt sind.
THE BRANDOS
, die von dem Film "The Wild One" derart begeistert waren, dass sie sich nach dessen Hauptdarsteller Marlon Brando benannten, formierten sich 1986 in der Besetzung David Kincaid (voc, g, mand, banjo), Ed Rupprecht (g), Larry Mason (dr) und Ernie Mendillo (b, voc) in New York City.
Die Zusammenstellung Contribution – The Best Of 1985-1999 aus dem Jahr 1999, auf der die Band ihre fast fünfzehnjährige Karriere passieren lässt und die 14 Songs aus den bis dato fünf erschienenen Studioalben enthält, beinhaltet mit "Hallowed Ground" und "My Way To You" auch zwei bisher unveröffentlichte Stücke.
Im Sommer 1999 waren die Brandos in der Besetzung Dave Kincaid (voc, g, mandolin), Ernie Mendillo (b, voc), Frank Giordano (g, voc) und Tom Engels (dr, voc) wieder auf Europatour unterwegs gewesen. Im Rahmen dieser Konzertreise war das Quartett am 9. Juli auch für den WDR Rockpalast auf der Freilichtbühne Loreley bei St. Goarshausen aufgetreten. 9 Songs umfasste der Set, 2 weitere Live-Tracks, darunter "I Got It" von Little Richard, waren 1987 beim Stadtfest Bremen bzw. 1998 in der Kongresshalle in Gießen mitgeschnitten worden.
Live At Loreley war bisher nur auf dem eigenen Label Haunted Field Music von Dave Kincaid in kleiner Auflage erschienen gewesen und dadurch auch rasch ausverkauft. Erstmals erscheint das Album nun nicht nur auf einem europäischen Label, sondern auch als Digipak-Edition.