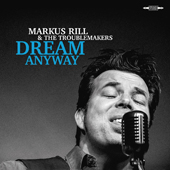 For more than 18 years Frankfurt/Germany-born Markus Rill has been proving that you don't necessarily need American genes to write & sing authentic, first-rate folk & country songs. Germany's finest and most consistent Americana artist is winning over an ever-expanding audience with his multitude of projects, has earned great international recognition, and has still stayed true to himself in his desire to evolve as an artist. It should come as no surprise then that his tenth album of original songs raises the bar yet again. Dream Anyway is an amazingly varied album with crisp and brilliant sound that presents a mature musician with deeply moving songs and rock'n'roll appeal at the height of his musical prowess.
Aside from playing hundreds of concerts in Germany and the rest of Europe over the last five years, Rill released a string of strong albums: First Wild Blue & True on Blue Rose in 2011, a convincing Americana & songwriter album with rock elements, then the duo album Light & Dark with Swedish new folk artist Annika Fehling with quiet, introverted acoustic alt.folk. It was followed in early 2013 by the powerful My Rocket Ship on Blue Rose, explicitly labeled as a band album with The Troublemakers, and before Christmas of the same year Late Night Drive, a satisfying, mostly acoustic self-released solo album. 2014 saw the release of Heart & Soul & Rock'n'Roll, an ambitious trio recording with his friends Hubert Treml and Franz Schuier in tribute of Bruce Springsteen. In the spring of 2015, Rill released the extensive box set The Nashville Recordings featuring the three sold-out albums he recorded with Nashville's finest, Hobo Dream (2004), The Price Of Sin (2006) and The Things That Count (2007).
And now here's Dream Anyway which combines the best aspects of Wild Blue & True (singer-songwriter, Americana, folk, roots) and My Rocket Ship (team play, roots rock, rock'n'roll) and brings them to a new level. Clearly, Markus Rill has found the key to clearer melodies, hookier choruses and catchier riffs. In a better world you might even speak of ""hit potential"" … Moreover, the (reshuffled) Troublemakers are a remarkable outfit with a wide array of instrumental and vocal abilities – no outside contributions were necessary for this album which was recorded in only eight days at 7V studios in Bockenem/Germany.
The opener ""Something Great"" indicates that Dream Anyway is Markus Rill most extroverted and – for a good part – most rock album. It is nothing less than a brilliant heartland rock track between Mellencamp and Springsteen with lyrical allusions to small town mentality and his band, The Troublemakers, who hit the ground running. It is followed by ""Walk On Water"", a catchy folk rock song with humorous lyrics about life's little lies (""I love you forever unless I don't"") while ""The Pauper's Daughter"" is a gently building folk song that describes how dreams are born and sometimes given up. Keyboarder/accordionist Manuela Huber is the featured female backing singer. Huber and lead guitarist Marco Hohner often provide exquisite harmony vocals – a feature for which Rill had to resort to outside help before, now an important nuance in the band's sound.
Like on his last albums, Rill does not shy away from unusual and difficult topics. ""Caroline's Confession"" deals with the challenge of living in celibacy and the doubts arising in the face of temptation. This number derives tension from the juxtaposition of accordion & banjo versus two electric guitars, culminating in Hohner's ferocious outro solo. Later on, in the storyteller-ballad ""Losing My Mind"" an Alzheimer patient describes the effects of the advancing disease in unadorned realism. ""Over Long Ago"" is accompanied by gentle piano chords, upright bass and gently brushed drums while lap steel shimmers in the background, time seems to be standing still – this musical setting fits the story of trying to live with child abuse … And in 'Some Democracy' Rill's bitter critique of today's politics is mirrored in dark, banjo-drenched Americana-folk.
But it's not all grim. Rill's love for the music of Buddy Holly shines through in the bouncy ""Girl In The Polka Dot Dress"" which is reminiscent of the Traveling Wilburys and features a cleverly placed quote of ""Not Fade Away"" and a fine slide guitar solo. ""Hands Of Mercy"" is arranged 60s style with classic 12-string jangle, beautiful harmony vocals in the instantly hummable chorus and a wonderfully old-fashioned Farfisa organ solo. There's an easy country-folk vibe to the semi-acoustic road song ""A Poor Man's Set Of Wheels"" and ""Roll Along"", a relaxed number about taking a rest.
And then there's two undeniable hits: ""Better"", co-written with Annika Fehling and London-based songwriter Dave Sutherland, an unashamedly ear-friendly song with a big chorus, loud electric guitars, cleverly woven-in accordion and an irresistible, in the best sense of the word, ""pop"" hook. The title track ""Dream Anyway"" ends an extremely entertaining, varied album with soulful songwriter rock in full Troublemakers glory: Chris Reiss plays various bass guitars and bouzouki, Lenardo von Papp plays drums & percussion, Manuela Huber plays organ, piano, e-piano and accordion and sings harmonies, string master Marco Hohner contributes acoustic & electric guitars, slide, lap steel, mandolin, banjo and harmony vocals.
Upfront Markus Rill is an equally convincing storyteller as he is a rock'n'roller, playing acoustic & electric guitars, banjo & harmonica and using his ever-more versatile sandpaper voice to great effect!