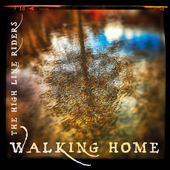 It doesn't always have to take forever … A mere three years after the surprising return of his band The High Line Riders with Bumping Into Nothing, their mastermind Ed Pettersen presents us with Walking Home, an equally excellent successor. It's a classy, timeless mix of handmade rock'n'roll, dynamic country rock and heartfelt folk roots numbers – an immensely listenable musical gumbo that will excite 70ies retro fans as well as current Americana listeners. Ed Pettersen: "artist, writer, producer" is what it says on his website. These three simple words cannot encompass the multitude of activities Pettersen is involved in. The High Line Riders are just one of many projects in the 50-something's career – but they are currently his most important project, the one he has most fun with, the one he pours his heart out in. You can hear it in every note and every riff of Walking Home.

Ed Pettersen, born of Norwegian descent in New York City, started his musical career in the mid-90s as a folkie singer-songwriter, inspired by the outlaw country music his parents had listened to and self-found idols like Pete Townshend and Paul Westerberg as well as Bruce Springsteen, Oasis and Steve Earle. When his debut album Desperate Times was released in 1995, he was already friends with The Brandos and The Del-Lords, two of the hottest NYC acts at the time. In 1997 the High Line Riders broke through with the much-lauded album Somewhere South Of Here. Since Pettersen's health issues didn't allow him to tour much then, the High Line Riders era ended quickly.
At the start of the new century he moved to Nashville, played pop rock with The Strangelys and revisited early, partially unreleased material. Additionally, Pettersen contributed to tribute albums for Waylon Jennings and Uncle Tupelo. In 2006 he was materially involved – as producer and musician – with the epochal three-CD project Songs Of America which dealt with 500 years of American history with participation by John Mellencamp, Blind Boys Of Alabama, The Black Crowes, The Mavericks, Andrew Bird, Old Crow Medicine Show and more. This project alone brought him more recognition than his entire previous output. Riding this wave he released his first album of new material in 2007 with The New Punk Blues Of … – exquisite, handmade, self-penned tracks between urban folk and songwriter rock.
In the current decade, Pettersen's creativity seems unstoppable. As Mad King Edmund, he deals in experimental jam rock, noise improv, electronic Americana and jazz. His magnum opus from 2012 Happening: A Movement in 12 Acts is a highly political, free jazz operetta with spoken word contributions by Walter Egan, Charles Walker, Suzy Bogguss, Freedy Johnston, Mary Gauthier, Matthew Ryan and others. After some research into his roots in 2013 he released I Curse The River Of Time: A Norwegian American Tale with a special edition hardcover art book – a beautiful album of Americana folk, Scandinavian literature and illustrations recorded with some of Nashville's finest and Norwegian guest musicians. Another of his projects is Nashville Electric: Two albums of experimental feedback/drone/psychedelia and electronic instrumentals are aimed at a niche audience. And recently Ed Pettersen got together with avant-garde freestyle rock guitarist Henry Kaiser for a few events.
True to the label's musical focus, Blue Rose Records love the High Line Riders' straight, guitar-driven, American rock'n'roll. After Bumping Into Nothing – the band's excellent comeback from an 18-year hiatus, they are now releasing the even more varied Walking Home! The rocking opener "One More Tomorrow" sets the bar high – irresistible, uptempo roots rock with wailing guitars, strong lead vocals and a great hook in less than three minutes! The typical Ed Pettersen storyteller song "A Long Hard Fall" captivates listeners with its hard-driving rhythm, folk harmonica, keyboard swells and omnipresent slide guitar. "Maureen" – and later "I'm Not The Man She Thinks I Am" – sound like classic 70ies country rock with a very Westcoast-type sound inspired by Poco or the Flying Burrito Brothers. "Every Time I See Your Face" is a slightly wavy/pub rock title with a Graham-Parker-meets-The-Smithereeens vibe. "There's People Out There" (with great slide guitar by Danny Flowers) and "The Saddest Girl In The World" are reminiscent of Springsteen-style heavy ballads a la The River. Singer-songwriter Garrison Starr sings harmony vocals on both songs.
In the center of the album is the title track, a beautifully pedal steel-drenched song of yearning. Young Norwegian-American folkie Ida Jenshus provides enchanting duet vocals – it won't get more country than this! From the opposite end of the spectrum comes "Our Little Secrtet", a powerful soul rock number with what amounts to a big band arrangement with a horn section and a gospel choir and Pettersen in shouter mode. And then there's "It Hurts To Ask", a tight garage rocker between the Flamin' Groovies and the Del-Lords. "Another Bad Goodbye", in fact co-written with Del-Lords frontman Scott Kempner, offers up a strong 60s flair and Dylan vibe. Closing the album is a rough-edged country rocker/cowpunk number featuring a slide guitar vs. steel guitar duel: "Goin' Home".
Even though Walking Home sounds like the clubs of Manhattan and Brooklyn with a Westcoast vibe, it's an all-Nashville production. Ed Pettersen wrote all twelve songs, recorded and produced them in his adopted hometown with well-known local musicians and a number of famous guests. Currently the High-Line Riders tour as a quintet with Pettersen (guitars, keyboards, vocals), Gary Goodlow (guitars), Atom Schmitt (pedal steel, lap steel), Kevin Hornback (bass) and Mike Bailey (drums). Some older tracks were recorded with Pete Abbott on drums and bass legend David Hungate who moved from his days with Toto into the Americana fold. The excellent quality of Walking Home can also be found in these details!