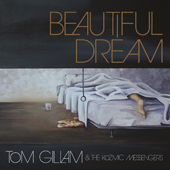 The popular Americana and guitar-rock all-rounder Tom Gillam is one of those US musicians with strong ties to Europe. There's hardly a year in which the likeable musician does not tour Europe – be it solo, in a duo format, with his band or as a member of singer-songwriter super group US Rails. With him coming over so frequently, having new material to present is of great importance. And Gillam delivers in spades! In 20 years Tom Gillam has been releasing albums regularly, since 2007 without fail on Blue Rose. Beautiful Dream is the title of his new album. For the first time in a while, the band gets special mention in the booklet – a strong indication of the strong team play within Gillam's coordinates of 70s retro rock, country rock and roots'n'roll with Texas roots and a Westcoast vibe.

In 2007 when Blue Rose Records introduced Americana rocker Tom Gillam to Europe with his fourth album Never Look Back, he was an unknown quantity. Since then, his status has changed drastically! Today, the multi-faceted and multi-talented Tom Gillam has become synonymous with handmade, quality Blue Rose material. Born in New Jersey and coming up through the nearby Philadelphia scene, Gillam's debut was First Of All in the late 90s, followed by Dallas (20012) and Shake My Hand (2004). A later sampler, Better Than The Rest, compiles the best of his early country/roots rock/Americana output. His stint as tour guitarist for popular songwriter Joseph Parsons piqued the Blue Rose scout's interest. Gillam's charismatic live presence laid the foundation for a long-lasting friendship and partnership with the German label. Never Look Back and the energetic live recording Play Loud … Dig Deep from 2008 led to greater popularity and a straighter rock sound in the vein of Mellencamp, Hiatt, Walsh, Seger. He pursued this course further on the next studio album Had Enough?
In the meantime Gillam had relocated and found a new creative home in Austin, TX. He has been hosting a successful radio show, "The Cosmic Power Hour", for the popular KNBT channel for years. For more than two years now he has also been hosting a four-hour morning show, the "Americana Morning Show", Mondays through Fridays. He has been pursuing his musical ambitions through two channels. With Joseph Parsons, Ben Arnold, Scott Bricklin and Matt Muir he founded the popular and oft-touring US Rails. What looked at the start like a "class of Philly" reunion has established itself as a popular Blue Rose act with three studio albums between 2010 and 2013: US Rails, Southern Canon and Heartbreak Superstar. He also released some solo records like the surprisingly relaxed and mostly acoustic Rustic Beauty in early 2012 and later that same year Good For You with driving country rock, uptempo numbers and beautiful midtempo ballads.
On Beautiful Dream Tom Gillam & The Kozmic Messengers are exploring their love for the irresistible rock sound of the 70s. The ten new songs – among them a highly unusual cover version of a not-so out of the way band – are filled to the brim with passionate vocals, electric energy and the rocking, guitar-driven sound of the successful albums Never Look Back and Had Enough?. The band consists of Tom Gillam on lead vocals, acoustic & electric guitars, some piano parts but only one short slide solo. He leaves most of the slide work to the fabulous David Spencer from San Antonio who also plays lap steel and dobro, shares electric lead parts with Gillam and also acts as co-writer and singer. Dan McCann on bass is a true veteran of Texas roots rock (Evan Johns & The H-Bombs, Snake Farm, Henry Vestine, among others) and part of the rhythm section with drummer Kenn Furr. Producer/engineer Ron Flynt (20/20, Bluehearts, Drakes) adds numerous keyboard parts on piano and organ and is responsible for the analog- and great-sounding retro soundscape.
The album starts with a very rocking threesome: "Tell Me What You Want" is compact, Joe-Walsh-inspired 70s rock with slide solos and organ fills, "Just Don't Feel Like Love" with its beautiful twin guitars is not far from the later electrified Eagles or the James Gang, and "Flying Bird" is driven by Gillam's unmistakable vocals, a soulful backing choir (via Texas singer Shelley King) and great guitar duels. Providing the listener with respite is the California-tinged country rock of "Red Letter Day" with acoustic guitars, piano and lots of pedal steel. And then there's "Good Day In Hell", the rarely heard Eagles cover (from On The Border) which serves as an unintended tribute to the late Glenn Frey. The following six-minute "Lazy Sunday" is aptly titled. After an extensive intro, the band finds its course between relaxed Grateful Dead rock (circa American Beauty era) and the Dickey Betts-dominated Allman Brothers of the Brothers & Sisters phase. The mid-section's guitar improvisations have a real cosmic feel to them. "All About Me" is a no-frills, blues-based, fast & furious rocker with a surprising sax part by Steve Bernstein. "Better Days" is a convincing rock number with a funky groove. After David Spencer's short acoustic guitar interlude "DnG", the album ends with the five-minute ballad of "Sail Away", a veritable hymn in which Gillam and Spencer play acoustic guitars and trade lead vocals, delicately ornamented with electric piano, organ, piano and dobro. A real spacy ending, perfect for KNBT and "The Cosmic Power Hour".
The vinyl edition contains a CD copy of the complete album.