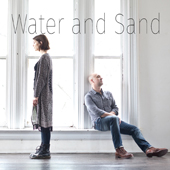 Die beiden populären amerikanischen Songwriter Todd Thibaud und Kim Taylor haben sich für ein gemeinsames Projekt zusammengefunden, das sie WATER AND SAND genannt haben und mit dem sie Feinheiten von einfühlsamen Beziehungen und den konstanten zeitlosen Bewegungen beschreiben möchten. Ihr selbstbetiteltes Debütalbum wurde von Sean Staples produziert, der bereits seit vielen Jahren Thibauds Begleiter bei Studioaufnahmen und Live-Shows gehört. Zusammen mit ihm und Thomas Juliano wird das Quartett im Oktober 2016 das Album auf einer Tour durch Deutschland und Österreich auch live präsentieren.
Todd Thibaud gehört zu jenen verlässlichen Typen, die sich musikalisch immer treu geblieben sind. Größere Veränderungen sind nicht sein Ding, die Abwechslung liegt in den Nuancen von Arrangement und Produktion, Spannung wird durch eine hohe Qualität der Songs garantiert, mit seiner attraktiven, gefühlvollen, sämig-rauen Stimme versprüht er ohnehin eine vertraute Wohlfühlatmosphäre wie kein Zweiter! Das war schon so zu Zeiten seiner ersten Band, den Courage Brothers, Anfang bis Mitte der 90er. Mit dem 97er Solodebüt Favorite Waste Of Time setzte sich der Mann aus Vermont ein erstes Denkmal am Songschreiber/Popfirmament. Es folgten die klassischen Blue Rose-Studioproduktionen Little Mystery (1999), Squash (2000), Northern Skies (2004), Broken (2008) und Waterfall (2013).

Kim Taylor stammt aus Cincinnati und hat ausgiebig getourt mit Künstlern wie dem Kanadier Ron Sexsmith und ihren Freunden von Over The Rhine, außerdem trat sie im Vorprogramm von Kris Kristofferson auf. Ihre Songs wurden in zahlreichen US-TV-Shows gespielt wie etwa Flashpoint, Army Wives, Smallville, Cyberbully, One Tree Hill sowie erst jüngst in dem Comedy-Drama aus Großbritannien, Stella.
2013 machte sie ihr Debüt als Schauspielerin in dem Independent-Film I Used To Be Darker, in dem sie eine Mutter spielt, die Musikerin ist und die sich nach einer Scheidung ein neues Leben aufbauen muss.