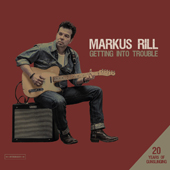 After 20 years of making records – "20 years of gunslinging" as he calls it – MARKUS RILL feels like it's the right time for "a gift to the people who enjoy my music and to myself". Getting Into Trouble is his first double album and it delivers ample proof why he is considered a stellar songwriter and Europe's finest Americana artist.

CD 1 features eleven new songs with all of Rill's trademark strengths: raspy, captivating vocals and wide-ranging sounds from driving roots rock to thoughtful acoustic numbers, from pristine bluegrass to the dirty blues. Rill's lyrics are fresh, insightful and infused with laconic poetry whether he portrays a New Orleans stripper or a young girl about to make a choice, whether he pays homage to fiddle great Vassar Clements, ruminates on a childhood friend gone bad or love's travails from the unlikely perspective of Henry VIII. Great musicians from Nashville, Australia, Seattle and Germany perform these songs with creativity and energy, supplying them with great heft.
"A little bit of house-cleaning" is how Rill describes the album with a wry smile. "After twenty years I felt like revisiting and updating a few of my early songs and recording some songs and co-writes I'd been saving for a special occasion or that took a while for me to figure out how to do," Rill says. "I think all of them are well suited to hold up the next twenty years."
Needless to point out, the veteran artist now has a much clearer vision of what his songs need than he did as a young upstart in the 90s.

The empathetic lyric of "Eye For An Eye" – a song inspired by Norman Mailer's "Executioner's Song" and the Tim Robbins movie "Dead Man Walking" – is now presented as a haunting, atmospheric rocker fueled by Dave Coleman's inventive guitar work. "On The Sly", a devastating vignette about a pregnant young girl weighing her options, flourishes as a fingerpicked folk tune with mournful strings. "Trouble With The Law" – the tale of a man on the lam – is delivered with the appropriate urgency and twanging bravado.
And the new songs are equally convincing. "In Theory" and "Giving Up On Dreaming" – co-written with Emmylou Harris sideman Phil Madeira – are catchy, no-nonsense alt.country hits. "For The Love Of Anne Boleyn" , also graced with a great hook, is a real unique slice of Americana with the use of the medieval-sounding Swedish string instrument Nyckelharpa and the idea to write from Henry VIII's perspective. "Desperate Ride" and "Vassar Played The Fiddle" are uptempo stomps, the first one a driving rocker with a de-glammed Ronnie Tutt groove and James Burton-riff, the latter an appropriately winsome bluegrass workout. "Not Like I Don't Try" lays bare the singer's acceptance of his own fallibility in a simple two acoustic guitar arrangement. "You Took It All Away" is a song of self-pity swathed in a lush array of pedal steel, guitars aplenty, piano & swirling organ.
This is a remarkable album, easily strong enough to stand on its own!
But there's more: CD 2 culls eleven tracks from Rill's back catalogue, once more showing off his versatility. The man can write a tongue-in-cheek Rockabilly tune with a nod to Jerry Reed, turn a classic Elvis ballad into a brooding atmospheric number, infuse a Louisiana family memoir with Cajun flavor, belt a soul tune, and just flat out rock. All of these songs are compiled from Rill's side projects, collaborations or EPs – none of them have been released on Blue Rose Records before.
There's the blue-eyed soul of "Girl On The A-Train", the hushed lullaby of "Angel On The Stairs", both from his collaboration with local Regensburg heroes Hubert Treml & Franz Schuier. There's "For A While", a stunningly intimate acoustic duet with his longtime friend, Swedish songstress Annika Fehling, there are energetic rockers with a heartland bent like the Springsteenish "Young Again" or "The Killer On The Radio", Rill's ode to Jerry Lee Lewis and the power of early rock'n'roll. There are also achingly wistful solo recordings like "Drifting In & Out Of Sleep" and "The Hardest Thing To See" and surprising covers of the Elvis chestnut "Can't Help Falling In Love" and Gillian Welch's "One More Dollar", backed by Seattle's Americana/old-time darling Rachel Harrington.
After winning "album of the year" and "singer of the year" awards for his previous album Dream Anyway, the follow-up Getting Into Trouble is a culmination of Rill's career that could also work as an excellent introduction to this formidable artist.