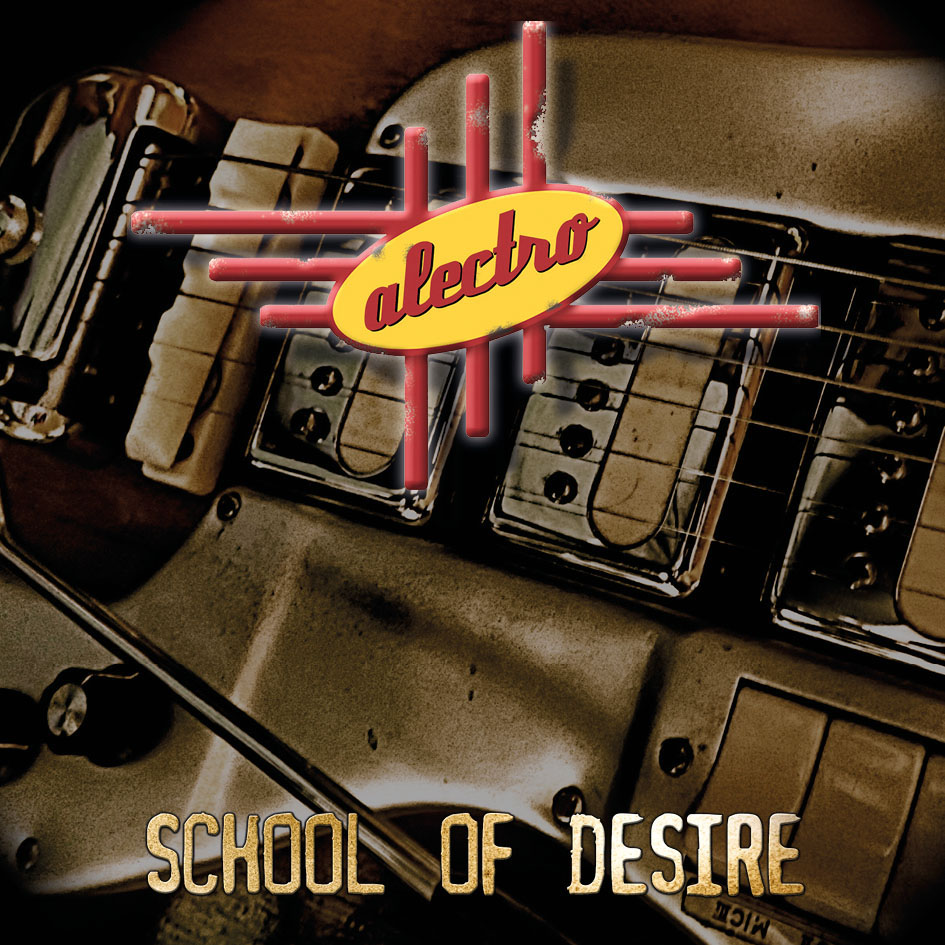 A singer-songwriter guitarist well-known by Americana insiders and a studio veteran who produced a slew of high-carat acts in the 80ies have started an exciting project that is certainly unique on Blue Rose Records: Alectro! Alectro are Steve Kirkman and Jeff Eyrich from New York. They share a mutual love of surf guitars, spaghetti western sounds, Duane-Eddy-twang, spooky desert rock and weird 1960s Spy-Fi instrumentals. For their first album they shacked up at Kirkman's Octagon studio north of NYC in the beautiful Hudson River Valley – with a wealth of strange-looking guitars, vintage amps, pedals, echoplexes, mics and analog rhythm machines. The wonderfully weird and musically high-quality result is School Of Desire!

Steve Kirkman grew up on a farm in North Carolina listening to country, blues, gospel and rock'n'roll. Then he made his way through Nashville, Memphis, NYC to upstate New York. For many years he has been living in the Hudson River Valley working as a musician, studio owner, engineer and producer for local talent. He has released two solo albums – Searcher (2001) and Roads (2007) – and two more with his folk rock band Hope Machine – March (2006) and Big Green (2009). On these records he plays folk music Woody Guthrie or Pete Seeger style and a songwriter/americana/roots rock not far from John Mellencamp, Bruce Springsteen or The Band.
Jeff Eyrich on the other hand hails from California and started out in the late 70s as a session musician in L.A., mostly on bass, for acts as diverse as Keith Carradine, Surf Punks, Bette Midler, John Cale, Tanya Tucker and Tim Buckley. In the 80s he gained a high profile as producer for trendsetters like the Plimsouls, the Blasters, Gun Club (The Las Vegas Story), Rank & File, Walking Wounded, Thin White Rope and T-Bone Burnett (Proof Through The Night). In 1995 he moved to NYC, played with local alt.folk/lounge band Dave's Story and soul/funk/blues/groove man Lipbone Redding, founded his label BePop and has generally always been hard at work in the studio with one newcomer band or another.
Eyrich & Kirkman's great duo debut School Of Desire starts out with a bang named 'The Debt'. Their only co-write sounds like Calexico-meets-Ring Of Fire, the ultimate amalgam of Wall Of Voodoo and Johnny Cash. Tim Ouimette's trumpet parts and Felicia Michael's mysterious backing vocals are a great addition to the guitar-laden arrangement. Steve Kirkman's title track is an uptempo Swamp'n'Twang number with beautifully restrained vocal, multiple slide guitars and extra power provided by Rich Zukor's drums. For the next few numbers drummers Zukor and Kevin Hup are taking turns – like on the blues-drenched electric rocker 'Fork In The Road' with its irresistible, sharply accented guitar work and alternating vocals. Slap bass, beat box, snare, a hard-driving acoustic guitar, duet vocals and a cool reverb solo characterize their take on Woody Guthrie's Hard Travelin' which sounds like JJ Cale meets the Tennessee Three. In the six minutes of 'Shining Star' mysterious guitars and a foreboding vocal evoke a voodoo vibe ("I met a man way down in New Orleans") before Kirkman and Eyrich break into an ecstatic chorus. Thin White Rope, Greyhound Soul and Tito & Tarantula may serve as reference points.
[rave player=alectro]
After Jeff Eyrich's relaxed desert/surf instrumental 'Sunset At County Line' and the Western noir/country rock of 'Cross And The Switchblade' (think Everly Brothers meet Giant Sand), we get to the album's second cover version: A slide & lead guitar-drenched take of J.D. Loudermilk's classic "Tobacco Road' with a dragging backbeat. Two exquisite Steve Kirkman numbers lead us into the finale: In 'Take Me To The Highway' he implores "let my spirit run" only to lose his soul to the demons of our time in 'Whiskey Water'. The self-explanatory 'Sunride At Faria' – another Eyrich instrumental – ends this journey of unusual, thrilling and inspiring music that was obviously produced and arranged with great care and attention to nuance and detail while still sounding very cool and alive!