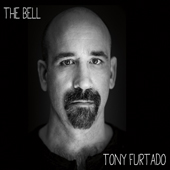 With the great Tony Furtado, a fantastic musician on plenty of stringed instruments, Blue Rose have signed a spectacular artist of international renown. After a four-year break from recording, The Bell is his brand-new studio album. It is a worthy successor to Golden, an album that won numerous awards and accolades, yet it also covers new ground and expands the artist's musical landscape. The Bell is Furtado's 16th album since the early 90ies, including some projects with musical friends of his. With its striking, genre-bending mix of folk/roots, indie rock, newgrass, acoustic rock, westcoast pop and singer-songwriter stylings, it is certainly one of the important Americana-and-beyond releases that will be talked about in 2015!

Tony Furtado from Portland, Oregon is one of the few all-round musicians on the contemporary roots, new folk and Americana scene who can do it all: Play multiple instruments on a very high level, write first-rate songs, sing well, work solo or as a team player as well as arrange and produce. Sure, Buddy Miller, Richard Thompson, Ry Cooder, as well as Darrell Scott and Dirk Powell come to mind as equally versatile artists. But Tony Furtado who once started out as banjo picker for the new avant-garde in 1990 on Rounder (cf. Tony Trischka, Bela Fleck, Tom Adams), then took on various acoustic and then electric guitars has become an internationally respected slide/string/steel master a la Ry Cooder, David Lindley, Bob Brozman, Sonny Landreth, Kelly Joe Phelps. The third step of his evolution involved working on his songwriting skills and numerous studio and live projects with such high-caliber artists as Kelly Joe Phelps, Mike Marshall, Todd Phillips, Dirk Powell, Todd Sickafoose, Darol Anger, Paul McCandless, Jim Dickinson, Winston Watson, Susan Marshall, Doug Pettibone, Eastmountainsouth, Jules Shear. Some mile markers in his career are the albums Roll My Blues Away (1997), Tony Furtado Band (2001), These Chains (2004), Deep Water (2009) and particularly Golden (2011).
Like Golden, Furtado recorded The Bell in his hometown of Portland at co-producer/engineer/musician Rob Stroup's (Baseboard Heaters, Imprints, Kate Mann, Scotland Barr) studio – but with quite a few more musicians than ever before. Consequently, the album's arrangements are lush and rich in detail, yet Furtado and his voice and many instruments take center stage. Furtado not only plays more banjo than in recent years (including the lower-tuned cello-banjo) but also delivers brilliantly on numerous guitars (acoustic, slide & bottleneck), on dobro and ukulele. He gets support from alt.country/folk rocker Paul Brainard (Richmond Fontaine) with beautiful (and at times spooky) pedal steel, electric guitar, lap steel and trumpet, keyboarders Rob Burger (Tin Hat Trio, Norah Jones, Lucinda Williams) and Todd Bayles, bluegrass mandolin player John Reischman (Tony Rice Unit, Jaybirds), accordionist Johnny Connolly, bassists Sam Howard (Aoife O'Donovan, Ruth Moody) and Tye North (Leftover Salmon, Comotion), drummers Anders Bergstrom (Kate Mann) and Drew Shoals (Ashley Flynn, Paula Sinclair), as well as world music purveyors Hanz Araki on flute (Black Prairie, Casey Neill), Moustafa Kouyate (on the west-African string instrument Ngoni) and tablas player Ty Burhoe (Keller Williams).
With 13 original compositions Tony Furtado offers up a dynamic, versatile collection of intricate newgrass/fusions instrumentals, melodic poetry songs, westcoast country rock, introverted folk melancholia, world music, bluegrass and more. He presents the full scope of his artistry with breakneck banjo parts, breathtaking bottleneck slide technique and veritable songwriting of such complex songs as 'Dying Language', 'Tall Grass', 'Tired Lion' and 'Ashes Of Man'. And of such elaborate instrumentals as 'Astoria', the quiet and poignant 'Iowa' and the moody 'Jo Jo'. But the other tracks like the opener 'Broken Bell', the banjo-driven fusion of 'Low Road' with funky bass, organ, slide and dobro and the jam-packed album closer 'Star' with pedal steel, trumpet, mandolin, organ, electric piano, horn section and backing choir are utterly convincing.

r>
In a special edition Blue Rose includes Copper & Tin, an EP that was separately released in the States, as bonus CD. It includes six extra tracks, recorded with a significantly smaller band and a more folk-oriented sound. 'Firecracker' is a fiery slide instrumental with bass & drum support, 'Machine' a Leo-Kottke-meets-David-Lindley-type song – both are Furtado originals. The other four tracks are rearranged traditionals, among them 'Peggy O', a solo recording in tribute of Jerry Garcia, 'Amazing Grace' as a sophisticated solo improvisation Leo Kottke/John Fahey-style and a lively medley of three Irish reels with banjo, cello banjo, acoustic guitar, baritone uke and tablas, accordion, flute and percussion.