AMBEL, ERIC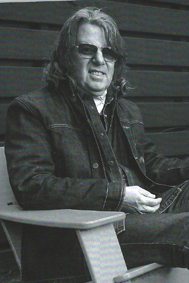 ERIC "ROSCOE" AMBEL dürfte kein Unbekannter mehr sein, obwohl er fast seine komplette Karriere lang mehr im Schatten des Musikbusiness stand als an vorderer Front. Unter den Fans von Blue Rose Records wurde er so richtig wahrgenommen bei der Band The Yayhoos, von denen 2001 das Album Fear Not The Obvious erschienen war. Doch Ambel war schon weit früher aktiv – zunächst spielte er zwei Jahre lang in der Band von Joan Jett & The Blackhearts, ehe er in den frühen 80er Jahren zusammen mit Scott Kempner und Frank Funaro die Band The Del-Lords gründete.
Sehr früh bekam er auch einen sehr guten Ruf als Produzent, so war er verantwortlich für nahezu alle Alben der Bottle Rockets, außerdem saß er am Produzentenpult bei so illustren Künstlern und Bands wie Nils Lofgren, Go To Blazes, Big In Iowa, Cheri Knight, Blood Oranges, Mary Lee's Corvette, Mojo Nixon oder Marshall Crenshaw, um nur einige wenige zu nennen. Seine Beiträge als Songwriter und Studiomusiker gehen ins Unendliche, und nicht zuletzt hat Ambel auch unter seinem eigenen Namen eine knappe Handvoll Alben veröffentlicht. Kurz gesagt – Eric Ambel ist ein vielbeschäftigter Mann!

Zu Beginn der Pandemie, als er aus dem Studio ausgeschlossen war und zuhause die Zeit verbrachte, beschloss Eric Ambel, einige Songs, die er digital verfügbar hatte, über Bandcamp als Shut In Singles-Serie zu veröffentlichen. Zwischen März 2020 und April 2021 veröffentlichte er 11 unterschiedliche Stücke, einige unveröffentlicht, andere waren bereits auf verschiedenen Compilations vertreten. You Asked For It enthält alle diese Songs, präsentiert in einem 4-Seiten-Digifile und einem 28-Seiten-Booklet mit ihrem Artwork und ausführlichen Beschreibungen zu allen Stücken, zusätzlich gibt es noch eine Version von "Honky Tonk Women", die er mit Jimbo Mathus und Keith Christopher aufgenommen hatte.
---

ERIC "ROSCOE" AMBEL shouldn't be a stranger anymore, even though he's been more in the shadows of the music business than on the front lines for most of his career. He really got noticed among Blue Rose Records fans with the band The Yayhoos, who released the 2001 album Fear Not The Obvious. But Ambel was active much earlier - he first played in the band of Joan Jett & The Blackhearts for two years before forming the band The Del-Lords with Scott Kempner and Frank Funaro in the early 80's.
Very early on he also got a very good reputation as a producer, so he was responsible for almost all albums of the Bottle Rockets, he also sat at the producer's desk with such illustrious artists and bands as Nils Lofgren, Go To Blazes, Big In Iowa, Cheri Knight, Blood Oranges, Mary Lee's Corvette, Mojo Nixon or Marshall Crenshaw, just to name a few. His contributions as a songwriter and studio musician are endless, and not least Ambel has released a handful of albums under his own name. In short – Eric Ambel is a busy man!

At the beginning of the pandemic while locked out of the studio and sheltering at home Eric Ambel decided to release some tracks he had on hand digitally through Bandcamp as the "Shut In Singles" series. Between March of 2020 and April of 2021 he released 11 different tracks. Some unreleased, others that had been on various compilations. "You Asked For It" is all of those tracks, presented in a 28 page booklet with their artwork and extensive notes of each song plus one more, a version of "Honky Tonk Women" that he had recorded with Jimbo Mathus and Keith Christopher.