Mailorder English
08. November 2019
For several years Todd Thibaud and Kim Taylor had the same management. Their idea was that both musicians should try writing songs together that the management could then submit to their contacts. Both finally met each other in person at SXSW several years ago and struck up a friendship.
While they were at SXSW, they made plans to get together for a writing session the next time Kim traveled to Boston from her home in Ohio. When she was in Boston they met up and actually had no luck that day writing a song, but discovered that they really liked singing together. The idea for a collaboration project came from that meeting. They talked about how interesting it would be to focus the songwriting for their collaboration on the struggles and joys of relationships/marriage etc. Both of them were busy with their own projects at the time, but they agreed to stay in touch and make this happen as soon as the time was right. After a few years had gone by without any progress, it was Taylor who took the initiative and got the ball rolling for what would become WATER AND SAND.

"We struggled coming up with a name for our project, sending each other lists of potential options, but nothing seemed to really resonate", Thibaud recalls. "Both of us were in the process of writing songs at that time for our forthcoming album, and Kim sent me one of her new ones called 'Water and Sand'. I loved the song as soon as I heard it, and as the two of us discussed it, I think we both agreed that it would actually make a good band name for our project. We ran it by our management and some trusted friends/family, and everyone seemed to like it. I think for us the name relates to the balances that life imposes and requires of us. The two sides of the coin. The Yin and Yang. The life giving water and the gritty, abrasive sand. There are many joys and good times in our lives, but of course, there are also times of struggle and pain. I think the name points to those co-existing experiences."
Compared to their own releases, WATER AND SAND is different. "We both wanted to center the project around two vocals, singing together, in harmony, and build things from there; always keeping those elements front and center. We never made any hard and fast rules in regard to other instrumentation. We've just always tried to do what's right for the songs, and not overshadow the vocals too much."
27. September 2019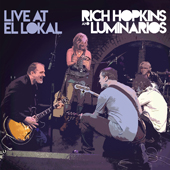 For three decades now, the name
Rich Hopkins
has been synonymous with dusty, guitar-drenched desert rock from the American southwest. This is true for the Tucson, Arizona musician's regular albums and even more so for his irresistible live performances. Backed by the Luminarios, a tight band, Hopkins plays desert rock like no one else, making the guitar sing and howl and time stop in his inspired solos. Needless to say, audiences are right there with him in a heartbeat.
Rich Hopkins & his Luminarios have toured Germany and the neighboring countries more than 20 times since 1997. "El Lokal" in Zurich, Switzerland has long been one of their favorite venues. Recordings from two shows at "El Lokal" are now available on CD. Ten of the album's 13 songs – which touch on many stations of Hopkins' career – are from a concert in May 2017. The three others are from a 2015 appearance.
The CD with a playing time of 72 minute sounds absolutely brilliant and reflects the vibe of a Luminarios concert.
This release is limited to 1.000 copies!
14. September 2019
We made it to number 100 of the Blue Rose Nuggets series! What had started eighteen years back in 2002 with an idea to release an exclusive CD compilation featuring items of the Blue Rose catalog surrounded by live tracks or previously unreleased music became a special edition and lots of Blue Rose fans are waiting for an new issue.
We are very happy to reach volume 100 of this little series but with tears in our eyes we have to tell that this edition will be the last Blue Rose Nuggets issue. Mainly because of licensing reasons we had to make this decision but with this last edition we'll give the fans more than usual: The regular CD (which contains 17 songs with a running time of 75 minutes) is accompanied by a bonus disc! The regular disc contains cover versions only of very well-known songwriter like Neil Young, Bob Dylan, John Fogerty, Gillian Welch, Tom Petty, Lennon/McCartney, Richard Thompson and Leon Russell, but it also includes songs written by critically acclaimed artists like Rick Danko, Pinto Bennett, Danny Whitten or Gene Clark. The bonus CD is featuring ten tracks from all the albums we have put out so far in 2019.
You can buy the CD for either 5,00 € or you'll get it for free if your order contains four and more items!
Tracklist:
1. THE BRANDOS – Lodi / taken from the album "Nowhere Zone" (BLU DP0709)
2. THE BAND OF HEATHENS – Look At Miss Ohio / taken from the album "One Foot In The Ether" (BLU DP0491)
3. BIG IN IOWA – Cinnamon Girl / taken from the album "Bangin' 'N' Knockin'" (BLU CD0103)
4. CONTINENTAL DRIFTERS – I Want To See The Bright Lights Tonight / taken from the album "Listen, Listen" (BLU DP0265)
5. CODY CANADA & THE DEPARTED – Home Sweet Oklahoma / taken from the album "This Is Indian Land" (BLU DP0548)
6. JOSEPH PARSONS – Jokerman / taken from the album "Live In Europe" (BLU CD0235)
7. RECKLESS KELLY – The Ballad Of Elano de Leone / taken from the album "Somewhere In Time" (BLU DP0513)
8. PAUL THORN – Small Town Talk / taken from the album "What The Hell Is Goin On?" (BLU DP0577)
9. NITTY GRITTY DIRT BAND – Get Back / taken from the album "Welcome To Woody Creek" (BLU CD0356)
10. LEEROY STAGGER – Swingin' / taken from the album "Live At The Red River Saloon" (BLU CD0525)
11. RICH HOPKINS & LUMINARIOS – If You're Gone / taken from the album "Devolver – Deluxe Edition" (BLU CD0096)
12. ELLIOTT MURPHY & IAIN MATTHEWS – I Don't Want To Talk About It / recorded live in Heilbronn/Germany on May 27, 2001 (not available on any regular album)
13. THE YAYHOOS – Dancing Queen / taken from the album "Fear Not The Obvious" (BLU CD0261)
14. MARKUS RILL – One More Dollar / taken from the album "Getting Into Trouble" (BLU DP0702)
15. THE RESENTMENTS – Someday Never Comes / taken from the album "Switcheroo" (BLU DP0378)
16. HANK SHIZZOE – Yea! Heavy And A Bottle Of Bread / taken from the album "Headlines" (BLU DP0425)
15. TODD THIBAUD mit Joseph Parsons und Thomas Juliano – The Weight / taken from the album "HOT-FM Sessions" (BLU DP0266)
BONUS-CD (Excerpts Of 2019)
1. THE SCHRAMMS – Honestly Now / taken from the album "Omnidirectional" (BLU CD0724)
2. RICH HOPKINS & LUMINARIOS – Pissed / taken from the album "Back To The Garden" (BLU DP0731)
3. MARKUS RILL & THE TROUBLEMAKERS – Swampland Of The Mind / taken from the album "Songland" (BLU DP0734)
4. TODD THIBAUD – Edge Of Breaking / taken from the album "Hill West" (BLU DP0735)
5. THE BLACK SORROWS – Do I Move You / taken from the album "Live At The Palms" (BLU DP0736)
6. JOSEPH PARSONS – Dreaming / taken from the album "Digging For Rays" (BLU DP0732)
7. HANK SHIZZOE – Careless Love / taken from the album "Steady As We Go" (BLU DP0725)
8. RUSS TOLMAN – Kid / taken from the album "Goodbye El Dorado" (BLU DP0730)
9. PETER BRUNTNELL – Dinosaur / taken from the album "King Of Madrid" (BLU DP0733)
10. RICH HOPKINS & LUMINARIOS – El Otro Lado / taken from the album "Live At El Lokal" (BLU DP0737)
31. Juli 2019
A new month, another issue of the Blue Rose Nuggets series which is exclusively available at the Blue Rose webshop. We have August 2019 and number 99. This new edition again contains 15 songs featuring current releases or albums released in the 24 years of Blue Rose history.
You can buy the CD for either 5,00 € or you'll get it for free if your order contains four and more items!
Tracklist:
1. HENSLEY STURGIS – Which William / taken from the album "Cabin Fever" (BLU CD0254)
2. DELBERT McCLINTON – Livin' It Down / taken from the album "Nothing Personal" (BLU CD0250)
3. WATER AND SAND – All I Wanna Do / taken from the album "Water and Sand" (BLU DP0688)
4. WALTER SALAS-HUMARA – Find A Way / taken from the album "Work: Part Two" (BLU DP0694)
5. JOSEPH PARSONS – Invisible / recorded live at HOT-FM Studio in Hof, Germany April 30, 1998 (previously unreleased)
6. SHAVER – New York City Girl / taken from the album "The Earth Rolls On" (BLU CD0252)
7. STEVE WYNN – Blackout / taken from the album "Here Come The Miracles" (BLU DP0237)
8. BILLY SEDLMAYR & RICH HOPKINS – The Fifty Percenter / taken from the album "The Fifty Percenter" (BLU CD0233)
9. I SEE HAWKS IN L.A. – Live And Never Learn / taken from the album "Live And Never Learn" (BLU DP0719)
10. ALEJANDRO ESCOVEDO – Across The River / taken from the album "A Man Under The Influence" (BLU CD0251)
11. STEPHEN SIMMONS – Puritan Cowboys / taken from the album "A World Without" (BLU DP0689)
12. JUPITER COYOTE – Spiral / taken from the album "Waxing Moon" (BLU CD0249)
13. CONTINENTAL DRIFTERS – That Much A Fool / taken from the album "Better Day" (BLU CD0253)
14. THE SHAKIN' APOSTLES – Crazy Flowers / recorded live at HOT-FM Studio in Hof, Germany April 29, 1998 (previously unreleased)
15. NORA JANE STRUTHERS – Grit / taken from the album "Champion" (BLU DP0714)