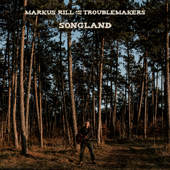 If you go into the studio planning to hopefully record ten songs in ten days and you come out the other end after little more than half this time with all 15 of your new songs recorded and in the bag, you have every right to call that a successful session! This happened in late October of 2018 at 7V studios in Bockenem/Germany to Markus Rill – considered by experts and fans to be Germany's finest Americana artist for more than 20 years – and his band The Troublemakers as they recorded their brand-new album Songland. The title tells the story: Rill's

songwriting – the joy he finds in poetic, sometimes surrealist lyrics, in creative eloquence as a logical evolution of his earlier, purer storytelling – is at the heart of the album. Musically, Rill and his guys always play in service of the song and do so in absolutely terrific fashion. Not one of the 15 tracks falls short of the others in any way, so Rill's decision to forget about marketing ploys or saving any song as a possible bonus track makes perfect artistic sense. Almost an hour of Songland – a true feast for fans!
Since 1997 Markus Rill from Würzburg has been living proof that you don't necessarily need American genes to write and sing authentic folk & roots music. He's been touring in Germany and Europe for more than twenty years and has steadily released album after strong album which makes his back catalogue quite an impressive one. Since his second album, The Devil & The Open Road (1999), he's been signed to Blue Rose Records who have released most of his albums since then. There's the trilogy of albums recorded with some of Nashville's finest musicians – Hobo Dream (2004), The Price Of Sin (2006) and The Things That Count (2007) -, the meaty Americana songwriter effort Wild Blue & True (2011) and in early 2013 the tremendous band album My Rocket Ship, recorded with The Troublermakers. With Dream Anyway in 2016 Rill & band made a quantum leap. This gem was very varied, sounded fantastic and presented a mature artist with depth and rock'n'roll appeal at the apex of his abilities (up to now). In early 2018 he released Getting Into Trouble for his 20-year anniversary, a double album featuring new material and a collection of rare tracks culled from limited releases or collaborative albums with Swedish New Folk artist Annika Fehling or his German colleagues Hubert Treml & Franz Schuier.