Mailorder English
28. November 2018
You didn't have the chance to get a copy of the tour-only CD "Steve Sings Bob" by STEVE WYNN? Don't worry, it's now exclusively available for European customers through the Blue Rose webshop at www.bluerose-records.com. Just click the sign with the mailboxes and scroll down until you see this cover. "Steve Sings Bob" is a collection of various covers of Dylan songs that Steve has recorded since 1982 with his extended family of musical pals – The Dream Syndicate (1982+1988), Steve Wynn's Loose Change (2005), Steve Wynn & Friends (1993), Steve Wynn & The Miracle 3 (2003), Steve Wynn with the Alejandro Escovedo Band (2002), Steve Wynn Quintet (1990), Hazel Motes (2007) und Steve Wynn & Jason Victor (2005). Extensive liner notes to each song are printed in the package.
28. November 2018
The sisters of Baskery are back on European soil, after living and loving in the US for nearly 3 years. Their backpacks hold new songs, new experiences, new friendships and broken promises.
It all started with a move to Nashville, a request from the band's American publisher. The trio traveled overseas without a master plan and settled down in one of the less hip parts of the city. Surrounded by Mexican diners, body shops, a couple of tattoo studios, numerous stray cats and all kinds of opportunists, the sisters built a home in the American south, where they got creative in their living room and on the porch of their wooden house on Leafland Avenue. They biked through every limb of Nashville and got to know and appreciate the city, where so many people with artistic dreams come to fulfil them.
A few low-cash-flow months later, the band basically lived on "chips y salsa" at the local Mexican, they received a call. The president of WBR Los Angeles had checked out the band on YouTube and wanted to meet with them. ASAP. The golden ticket to the city of dreams and angels became reality and the sisters boxed up their Nashville existence to jump on the carousel.
The band signed with WBR in the fall of 2014 and moved to LA, a city with a completely different beat to it than Nashville and the sisters were up for the change. Nearly one year passed before the recording, alongside with producer Andrew Dawson (Kanye West, Rolling Stones, FUN), took place in Glenwood Studios, Burbank. The studio luxury they experienced there was quite the contrast to some of their earlier recordings and the band embraced a completely new way of working together with Dawson and his assistant Mike Malchicoff. One evening, the sisters sat in front of the fireplace in the courtyard singing an a cappella version of 'Cactus Baby', when Bruno Mars appeared and praised their harmonies. He told them that he was occupying 'Studio A' for a few months to work on his new album. Baskery's recording in 'Studio B' was finished in just a few weeks, then off to be mixed by Joe Zook (Katy Perry, U2, The Hives).
Fast-forward to the beginning of 2017. With a promising summer tour ahead of them, an album more than ready to take off and a band with growing misgivings, there's the call from the manager. WBR is struck by an economic crisis and has to drop dozens of "developing acts". Among them, the trio from Sweden.
"The news" weren't really news to the band, but the fact that the songs were facing the shelf for an indefinite time, left them uneasy. There were talks of hunger strikes outside the WBR headquarters and launching a pissed off give-us-our-album-back-campaign, but after some eager dispute with the help from a feisty and dedicated New York lawyer, nine of the twelve songs, the ones not yet launched by WBR, were returned to the band.
Eight of these exempt songs are now released. The band has chosen to call the album Coyote & Sirens, a dedication to life in Echo Park, the collision and interaction between urbanization and wildlife and the touching soundtrack of city wolves responding to the never resting Los Angeles emergency cries. The stray cats of Nashville lurk behind the opening track, 'Shut the Catflap', and all tracks on the album are inspired by the time, the life, in Nashville and LA.
23. November 2018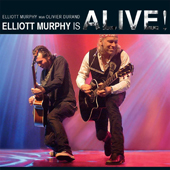 Murphyland Records announces the release of a classic live Elliott Murphy recording accompanied by his virtuoso French guitarist (and for over 22 years his musical partner) Olivier Durand entitled
Elliott Murphy Is Alive
! Recorded at the famed Brussels concert hall Ancienne Belgique in 2008, fans still recall this particular show as a magical concert that was begging to be released as a live album.
Elliott Murphy Is Alive!
captures the incredible musical synchronicity of two road-warrior musicians who drive their sold-out public to frenzy merely on the strength of two precise acoustic guitars, heartfelt vocals and a superb selection of songs.
22. November 2018
Reminiscent of works like John Steinbeck's Travels With Charlie or Bruce Springsteen's Nebraska, the new album I Was Hank Williams by songwriter and singer Ad Vanderveen is a personal quest and an adventure. It is a quest for self-knowledge leading to spirituality, and an investigation into the origin of a dream. A dream that is old and has led the writer down a long road of countless songs and many records. It has a strong fascination for the new world, and is anchored in the old one. Remarkable of Vanderveen's work may be the insights and influences of Eastern philosophy, which he has studied and practised for years, that shine a special light on different subjects, within a musical context of a distinct Western character.
Writing is like breathing for Ad and, although it doesn't come quite as easy, it is a bare necessity for him, and so is playing. He is undoubtedly one of the most prolific writers in the genre and his work is considered to be of a consistent high level by fans, critics and peers (recently none other than Van Morrison personally invited him to be his opening act). Almost every year a new collection of AV songs in a different sphere and setting presents itself as a CD.
This year there's even two: Where the previous releases, the diptych of Worlds Within (2017) and Denver Nevada (2018) were characterized by somewhat more extensive production and arrangements than is Vanderveen's usual MO, for I Was Hank Williams there was a more minimal, direct and diverse approach. Voice and guitar, poem and music, remain center stage and keep the listener close to the content of the songs. Around that, charming and effective embellishments of horn and string arrangements, harmony vocals and old rootsy string instruments are weaved throughout the album, as well as ambient soundscapes enhancing the songs' atmospheres.

According to Ad: 'A song should be able to stand on its own feet and come across without any bells and whistles, otherwise I don't see the point in what I'm doing. It strikes me as disproportionate how much music seems to revolve around production, arrangement and even marketing these days. It's like the packaging is more important than the content, while a song in itself is already something magical and miraculous; a poem and a message with a melody, a rhythm and a title – something complete with a distinct own identity, like a world you can live in'.
It is this world the listener can be drawn into like in a very personal story, as in old folk tradition, without frills or distractions, and is able to visualize his or her own images and spheres, like reading a good book. As do many of his predecessors, old masters like Bob Dylan, Van Morrison or Neil Young, Ad Vanderveen has an instinctive way of working: "The Muse is a very fleeting and evasive thing and you have to catch it while it's there. This goes for all of these recordings; they were made right after or sometimes even during the writing of the song, in the stage where the images and pictures are fresh and lively and close to their origin. Sometimes this was in a studio and sometimes in special locations like an old auditorium, or even the cave of Pythagoras. That Muse is certainly also present in the ambient spheres and sonic souvenirs of special moments that accompany these songs. A highlight being reuniting my mom and dad musically, on church organ and ragtime piano respectively, in a little piece called 'Live and Give It All'."
09. November 2018
Over a career that spans more than a decade and a half and has won her a devoted worldwide fan base, Jess Klein — who possesses what Mojo magazine calls "one of those voices you want to crawl up close to the speakers to listen to" has pursued a remarkable creative evolution that's seen her dig ever deeper for resonant emotional insights, while continuing to refine her eloquently melodic, effortlessly accessible songcraft. Jon Pareles of The New York Times calls her "a songwriter with a voice of unblinking tenacity…who finds parables in the everyday and also finds humanity behind the archetypal."

The Rochester, NY native began writing songs as a college student in Kingston, Jamaica, and is known for staking out brave lyrical and musical territory with such albums as Wishes Well Disguised (1998), Draw Them Near (2000), Strawberry Lover (2005), City Garden (2006), Bound to Love (2009), Behind A Veil (2012) and Learning Faith (2014) which Folk Radio UK calls "Unquestionably the finest album of her impressive career." Jess spent eight years soaking up the live music culture of Austin, TX. Bootleg (2015) Jess's live, full band album captures the dynamism of Jess onstage, backed by some of Austin's top players. Jess was named a 2015 Finalist in the highly regarded Kerrville New Folk Competition.
Following a move from Austin to the tiny but vibrant town of Hillsborough, North Carolina, Jess joined forces with Producer Mark Simonsen (The Old Ceremony, Weems/Gerrard Band, film scores: Elephant Sighs, Radiation Veterans and Rareified) and Engineer Thom Canova (Amy Ray, 4 Non-Blondes, Oranj Symphonette) at Studio M in Durham, North Carolina to record a new album entitled Back to My Green.
On this striking collection of ten new originals, Klein's incisive lyrics address living in uncertain times and the resilience that carries us through. Songs like "New Thanksgiving Feast", "Tougher than I Seem", and "Kid" look through the lens of a world-traveler and granddaughter of Russian Jewish immigrants, to celebrate the human capacity for healing and redemption during dark times. Guest vocalists include Gaelynn Lea and Jonathan Byrd. Simonsen and Canova's deft production calls on influences including Motown, Classic Rock, Tropicalia and 70's folk and creates a stirring backdrop to Klein's passionate mezzo soprano on this timely and powerful album.
11. Oktober 2018
Formed nearly 30 years ago, the Bottle Rockets helped forge a now-popular subgenre-small-town, middle-class, Midwest American roots rock-part right-to-the-gut poetry, part rock 'n' roll, all truth. Bit Logic is a different sort of album for the St. Louis natives and shows them at their most self-aware, self-challenging, and socially alert.
Recorded in St. Louis at Sawhorse Studios, engineered by Mario Viele and produced by longtime studio collaborator Eric "Roscoe" Ambel (The Del-Lords, Steve Earle), the Bottle Rockets' 13th album has them looking at their unique stylistic blend through a different lens. While one of the group's earmarks is constructing blue-collar anthems, Bit Logic has the quartet focusing outside themselves, at how change and adaptation affects the bigger picture.

"We were not planning any kinda 'theme' to this album, but one kinda showed up," said lead singer and guitarist Brian Henneman. "If it's about anything at all, it's an album about existing in this modern world. Trying to dodge depression and anger. These songs are views from the moments when you're mostly succeeding at it." Yet, to balance those times when success may seem just a breath out of reach, the album includes the infectious pop masterpiece "Maybe Tomorrow" which offers an optimistic and buoyant outlook on momentary failure.
The band returned to its more democratic songwriting approach this time, which generated four co-written songs, in contrast to their previous and critically acclaimed album, South Broadway Athletic Club, which Henneman primarily wrote. Leading up to their time in the studio, Henneman sent around some bare-bones acoustic iPhone recordings that would serve as the album's blueprint, and the group fleshed out one song a day by means of three 4-day studio sessions.
The group went into the recording sessions with a fresh outlook-to bring out more of their Americana influences and to write a record that more accurately reflected their collective approach. What they found while doing so surprised them.