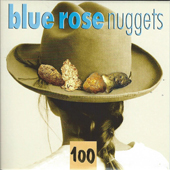 We made it to number 100 of the Blue Rose Nuggets series! What had started eighteen years back in 2002 with an idea to release an exclusive CD compilation featuring items of the Blue Rose catalog surrounded by live tracks or previously unreleased music became a special edition and lots of Blue Rose fans are waiting for an new issue.
We are very happy to reach volume 100 of this little series but with tears in our eyes we have to tell that this edition will be the last Blue Rose Nuggets issue. Mainly because of licensing reasons we had to make this decision but with this last edition we'll give the fans more than usual: The regular CD (which contains 17 songs with a running time of 75 minutes) is accompanied by a bonus disc! The regular disc contains cover versions only of very well-known songwriter like Neil Young, Bob Dylan, John Fogerty, Gillian Welch, Tom Petty, Lennon/McCartney, Richard Thompson and Leon Russell, but it also includes songs written by critically acclaimed artists like Rick Danko, Pinto Bennett, Danny Whitten or Gene Clark. The bonus CD is featuring ten tracks from all the albums we have put out so far in 2019.
You can buy the CD for either 5,00 € or you'll get it for free if your order contains four and more items!
Tracklist:
1. THE BRANDOS – Lodi / taken from the album "Nowhere Zone" (BLU DP0709)
2. THE BAND OF HEATHENS – Look At Miss Ohio / taken from the album "One Foot In The Ether" (BLU DP0491)
3. BIG IN IOWA – Cinnamon Girl / taken from the album "Bangin' 'N' Knockin'" (BLU CD0103)
4. CONTINENTAL DRIFTERS – I Want To See The Bright Lights Tonight / taken from the album "Listen, Listen" (BLU DP0265)
5. CODY CANADA & THE DEPARTED – Home Sweet Oklahoma / taken from the album "This Is Indian Land" (BLU DP0548)
6. JOSEPH PARSONS – Jokerman / taken from the album "Live In Europe" (BLU CD0235)
7. RECKLESS KELLY – The Ballad Of Elano de Leone / taken from the album "Somewhere In Time" (BLU DP0513)
8. PAUL THORN – Small Town Talk / taken from the album "What The Hell Is Goin On?" (BLU DP0577)
9. NITTY GRITTY DIRT BAND – Get Back / taken from the album "Welcome To Woody Creek" (BLU CD0356)
10. LEEROY STAGGER – Swingin' / taken from the album "Live At The Red River Saloon" (BLU CD0525)
11. RICH HOPKINS & LUMINARIOS – If You're Gone / taken from the album "Devolver – Deluxe Edition" (BLU CD0096)
12. ELLIOTT MURPHY & IAIN MATTHEWS – I Don't Want To Talk About It / recorded live in Heilbronn/Germany on May 27, 2001 (not available on any regular album)
13. THE YAYHOOS – Dancing Queen / taken from the album "Fear Not The Obvious" (BLU CD0261)
14. MARKUS RILL – One More Dollar / taken from the album "Getting Into Trouble" (BLU DP0702)
15. THE RESENTMENTS – Someday Never Comes / taken from the album "Switcheroo" (BLU DP0378)
16. HANK SHIZZOE – Yea! Heavy And A Bottle Of Bread / taken from the album "Headlines" (BLU DP0425)
15. TODD THIBAUD mit Joseph Parsons und Thomas Juliano – The Weight / taken from the album "HOT-FM Sessions" (BLU DP0266)
BONUS-CD (Excerpts Of 2019)
1. THE SCHRAMMS – Honestly Now / taken from the album "Omnidirectional" (BLU CD0724)
2. RICH HOPKINS & LUMINARIOS – Pissed / taken from the album "Back To The Garden" (BLU DP0731)
3. MARKUS RILL & THE TROUBLEMAKERS – Swampland Of The Mind / taken from the album "Songland" (BLU DP0734)
4. TODD THIBAUD – Edge Of Breaking / taken from the album "Hill West" (BLU DP0735)
5. THE BLACK SORROWS – Do I Move You / taken from the album "Live At The Palms" (BLU DP0736)
6. JOSEPH PARSONS – Dreaming / taken from the album "Digging For Rays" (BLU DP0732)
7. HANK SHIZZOE – Careless Love / taken from the album "Steady As We Go" (BLU DP0725)
8. RUSS TOLMAN – Kid / taken from the album "Goodbye El Dorado" (BLU DP0730)
9. PETER BRUNTNELL – Dinosaur / taken from the album "King Of Madrid" (BLU DP0733)
10. RICH HOPKINS & LUMINARIOS – El Otro Lado / taken from the album "Live At El Lokal" (BLU DP0737)