Mailorder English
14. März 2019
There are beautiful melodies and insightful lyrics, a sound of wide-open spaces and a vibe that's both timeless and contemporary, and there's this majestic elegant voice. Joseph Parsons' new album Digging For Rays has got everything you want from a song-oriented album in 2019 and then some. Sure, Parsons is a singer-songwriter but he's also a widely-traveled musician in the here and now and his 13th studio album effortlessly reflects both.

The Pennsylvania & Louisiana raised artist currently residing in Germany draws from the familiar well of folk and rock to create something new – a music that's exciting and current without eschewing its roots or catering to the dance-oriented zeitgeist. In other words: It's the kind of album this writer thinks you've been waiting for.
Songs like "Living Things" with its propelling beat, the acoustic, elegiac "Sad Parade", the dark, driving rocker "Wide Awake" and the beguiling "Beautiful Lie" all sound fresh and original and are elevated by a one-of-a-kind voice. Parsons is a deliberate, controlled singer who conveys emotional depth with subtlety and nuance – and a lot of lure.
Digging For Rays is Parsons' way of saying "searching life for a little light, for rays of hope & sunshine" – sorely needed considering the shape the world is in and, specifically, his home country. "I'm still an optimist even when things look bleak", Parsons says. Music helps him maintain his equilibrium and positive outlook.
Over the course of a dozen studio albums, various live & collaborative projects and more than twenty years of touring, Joseph Parsons has established himself as a world class singer and writer, great all-around musician and an immensely personable performer. And yet he still keeps pushing himself, adding modern sounds to his palette to create another eminently listenable album that reveals deeper layers with every repeated listening. Some of his songs are introspective and provide keen insight, while others are written from the vantage point of an astute observer and chronicler of this ever-changing world. It is a world he knows well having lived in many places over the years from Los Angeles to Baghdad to Berlin.
Parsons also draws from artists like songwriting greats James Taylor, Cat Stevens, Bob Dylan, Jackson Browne and outside-the-box-thinkers like Miles Davis, Paco de Lucia, Bob Marley and Daniel Lanois. From these ingredients he creates original music unconcerned with fitting into a specific genre. The only thing that counts for Parsons is a good song. And how does he measure if it's a good song? "When it reaches the heart & soul of the listener," Parsons says. Undoubtedly, the 10 songs of Digging For Rays do exactly that.
08. März 2019
Shed My Skin is Los Angeles native Dan Navarro's long-awaited first studio album after 14 albums in 20+ years with Lowen & Navarro, Triple A Radio mainstays in the 1990s. Dan went solo in 2009 after the retirement and subsequent death of Eric Lowen due to ALS (MND).

Shed My Skin is produced and guitarred by Steve Postell (Little Blue, Danny Kortchmar, Jennifer Warnes) featuring a duet with blues singer Janiva Magness, hit singer-songwriter Wendy Waldman (Vanessa Williams, Nitty Gritty Dirt Band), Grace Pettis and Brother Sun, plus players Danny Kortchmar (James Taylor, Don Henley, Jackson Browne), Leland Sklar (James Taylor, Phil Collins), Butch Norton (Lucinda Williams), Bob Malone (John Fogerty), Debra Dobkin (Bonnie Raitt, Was Not Was), roots artist Tony Furtado, Phil Parlapiano (John Prine, Grant Lee Buffalo), Joel Tepp (Bonnie Raitt, Danny O'Keefe), Freebo (Bonnie Raitt), Dennis Edwards (Eddie Money), Brendan Buckley (Shakira), Jon Ossman (Marc Cohn, Paula Cole), Aubrey Richmond (Shooter Jennings), David Glaser and Peter Adams.
The songlist on Shed My Skin features eight Navarro originals plus four covers, two by old friends, Kenny Edwards ("Night Full Of Rain") and Tom Wilson of Blackie & The Rodeo Kings and Lee Harvey Osmond ("You Drove My Crazy", a duet with Janiva Magness). Rounding out the album are the haunting "Sweet Sixteen" by Billy Idol and the Jimmy Webb standard "Wichita Lineman" in a sumptuous new arrangement.
Dan's long songwriting career includes Pat Benatar's Grammy-nominated classic "We Belong", Top 5 in 30 countries, plus songs recorded by The Bangles, Dave Edmunds, Dionne Warwick, Jackson Browne, Keb'Mo', The Temptations, freestyle hip-hop pioneers TKA, Jon Ondrasik (Five For Fighting), Nile Rodgers or The Triplets Billboard US #14 single "You Don't Have To Go Home Tonight"), among many others.
His songs have appeared in films and TV shows as "Deadpool 2", "Pitch Perfect 2", "The Office", "General Hospital", "Melrose Place", "The Color of Money", "American Dad", "American Idol", "The Voice" and dozens of MTV & VH1 specials.
Dan tours constantly, for over 20 years with Lowen & Navarro and since 2008 as a solo artist, with headline and mainstage performances in legendary acoustic/roots venues and festivals, including The Kerrville Folk Festival, The Woody Guthrie Festival, Rocky Mountain Folks Fest, Vancouver Island Music Fest, The Falcon Ridge Folk Festival, McCabe's Guitar Shop (Santa Monica CA), The Birchmere (Alexandria VA), Rams Head Onstage (Annapolis MD), The Bitter End and The Bottom Line (NYC) and many more.
Lowen & Navarro were listed in the "100 Most Influential Independent Artists" by Performing Songwriter Magazine in 2008.
30. Januar 2019
HANK SHIZZOE is back with his new record Steady As We Go. Released on CD, LP and in all digital formats it is a remarkable achievment: Recorded live on the studio floor with his fabulous band, Steady As We Go presents a singer, songwriter and guitar player in top form. This is Americana roots music at its finest, sung and played by an ensemble of musicians whose skills and talents are second to none. New originals meet old traditionals, songs by Randy Newman, Washboard Sam, Tammy Wynette, Bob Nolan and a moving tribute to the late great Tom Petty. Topping off the finely crafted production is the mastering by Stephen Marcussen who was involved in at least half of your record collection.


Steady As We Go is Hank Shizzoe's 16th album since 1994. One might be tempted to ask, why make another one? Hank says: "Because it's time. We've never played better as a band. I felt very confident singing these songs, my voice is at an entirely different level now. I've wanted to do an album like this for decades. We've had a blast making this record and I think it shows."
"We" in this case means Hank's core band for the last five years: Tom Etter on guitars and Simon Baumann on drums. With the addition of Michel Poffet who had played his upright bass with Hank for 15 years and since the first album, Low Budget. "With Tom and Simon there is something very special and rare going on for me", Hank says. "We just click, it feels like home. So we invited my dear old friend Michel Poffet over and he came in like a long lost relative that everybody just adores. We recorded in the same room playing off of each other, unrehearsed, fresh. Nobody was wearing headphones, I sang live. The way it used to be done, really. You know, four guys doing what they love and do best, expertly captured by the finest audio equipment, no funny stuff, no fixing or tinkering. Just real good, inspired playing and singing – boom, straight to the heart."
Weiterlesen / Read more
28. November 2018
You didn't have the chance to get a copy of the tour-only CD "Steve Sings Bob" by STEVE WYNN? Don't worry, it's now exclusively available for European customers through the Blue Rose webshop at www.bluerose-records.com. Just click the sign with the mailboxes and scroll down until you see this cover. "Steve Sings Bob" is a collection of various covers of Dylan songs that Steve has recorded since 1982 with his extended family of musical pals – The Dream Syndicate (1982+1988), Steve Wynn's Loose Change (2005), Steve Wynn & Friends (1993), Steve Wynn & The Miracle 3 (2003), Steve Wynn with the Alejandro Escovedo Band (2002), Steve Wynn Quintet (1990), Hazel Motes (2007) und Steve Wynn & Jason Victor (2005). Extensive liner notes to each song are printed in the package.
28. November 2018
The sisters of Baskery are back on European soil, after living and loving in the US for nearly 3 years. Their backpacks hold new songs, new experiences, new friendships and broken promises.
It all started with a move to Nashville, a request from the band's American publisher. The trio traveled overseas without a master plan and settled down in one of the less hip parts of the city. Surrounded by Mexican diners, body shops, a couple of tattoo studios, numerous stray cats and all kinds of opportunists, the sisters built a home in the American south, where they got creative in their living room and on the porch of their wooden house on Leafland Avenue. They biked through every limb of Nashville and got to know and appreciate the city, where so many people with artistic dreams come to fulfil them.
A few low-cash-flow months later, the band basically lived on "chips y salsa" at the local Mexican, they received a call. The president of WBR Los Angeles had checked out the band on YouTube and wanted to meet with them. ASAP. The golden ticket to the city of dreams and angels became reality and the sisters boxed up their Nashville existence to jump on the carousel.
The band signed with WBR in the fall of 2014 and moved to LA, a city with a completely different beat to it than Nashville and the sisters were up for the change. Nearly one year passed before the recording, alongside with producer Andrew Dawson (Kanye West, Rolling Stones, FUN), took place in Glenwood Studios, Burbank. The studio luxury they experienced there was quite the contrast to some of their earlier recordings and the band embraced a completely new way of working together with Dawson and his assistant Mike Malchicoff. One evening, the sisters sat in front of the fireplace in the courtyard singing an a cappella version of 'Cactus Baby', when Bruno Mars appeared and praised their harmonies. He told them that he was occupying 'Studio A' for a few months to work on his new album. Baskery's recording in 'Studio B' was finished in just a few weeks, then off to be mixed by Joe Zook (Katy Perry, U2, The Hives).
Fast-forward to the beginning of 2017. With a promising summer tour ahead of them, an album more than ready to take off and a band with growing misgivings, there's the call from the manager. WBR is struck by an economic crisis and has to drop dozens of "developing acts". Among them, the trio from Sweden.
"The news" weren't really news to the band, but the fact that the songs were facing the shelf for an indefinite time, left them uneasy. There were talks of hunger strikes outside the WBR headquarters and launching a pissed off give-us-our-album-back-campaign, but after some eager dispute with the help from a feisty and dedicated New York lawyer, nine of the twelve songs, the ones not yet launched by WBR, were returned to the band.
Eight of these exempt songs are now released. The band has chosen to call the album Coyote & Sirens, a dedication to life in Echo Park, the collision and interaction between urbanization and wildlife and the touching soundtrack of city wolves responding to the never resting Los Angeles emergency cries. The stray cats of Nashville lurk behind the opening track, 'Shut the Catflap', and all tracks on the album are inspired by the time, the life, in Nashville and LA.
23. November 2018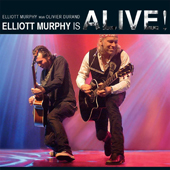 Murphyland Records announces the release of a classic live Elliott Murphy recording accompanied by his virtuoso French guitarist (and for over 22 years his musical partner) Olivier Durand entitled
Elliott Murphy Is Alive
! Recorded at the famed Brussels concert hall Ancienne Belgique in 2008, fans still recall this particular show as a magical concert that was begging to be released as a live album.
Elliott Murphy Is Alive!
captures the incredible musical synchronicity of two road-warrior musicians who drive their sold-out public to frenzy merely on the strength of two precise acoustic guitars, heartfelt vocals and a superb selection of songs.