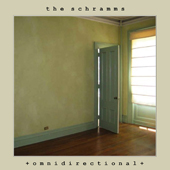 Omnidirectional is the seventh album from The Schramms, a beautiful work of art that was ten long years in the making. Frontman / guitarist / writer Dave Schramm has painstakingly assembled an expansive, cinescopic work that will delight long-time fans and new listeners alike. The album features drummer Ron Metz and bassist Al Greller who've played together with Dave in The Schramms since the 1980s, with JD Foster (Lucinda Williams, Richard Buckner, Calexico, Marc Ribot) producing.

Dave Schramm is perhaps best known as an original member and lead guitarist for Yo La Tengo, but over the years has worked with a wide assortment of notable artists from the Replacements to Richard Buckner and all points in between. In recent years, he created the Radio Free Song Club with singer / songwriter Kate Jacobs and disc jockey Nicholas Hill, a successful radio show / podcast showcasing a group of songwriting heavyweights that's included Victoria Williams, Peter Holsapple, Freedy Johnston, Laura Cantrell, Robin Holcomb, Howe Gelb, Peter Blegvad, Jody Harris, Don Piper, Amy Allison, Amy Rigby and Wreckless Eric.
Schramm and Ron Metz had been playing with cult faves Akron, OH's The Human Switchboard before Dave fell in with guitarist Ira Kaplan and drummer Georgia Hubley, joining Yo La Tengo for their debut album, Ride The Tiger, and the recordings that preceded it. He would re-unite with the band along with Greller on their much-beloved 1990 release Fakebook as well as its 2015 sequel Stuff Like That There.
After the release of Ride The Tiger, and a subsequent tour, Schramm struck out on his own, reuniting with Metz who'd recently arrived in New York. At their first gig, they billed themselves "The Schramms" as a joke, but the name stuck! There were several early line-ups, some including other Yo La Tengo alumni, with personnel shifting even as work started on their first album, Walk to Delphi. The Tall Lonesome Pines' Al Greller joined as bassist and has been with the band ever since.
Renowned as musician's musicians, each of the members of the core band has been tapped to help out other artists over the years. Dave has recorded with Peter Holsapple and Chris Stamey (on Mavericks, It's Alright, Fireworks), The Replacements (All Shook Down), Yo La Tengo (Fakebook, Stuff Like That There), Richard Buckner (Since), Freedy Johnston (Can You Fly, This Perfect World, Never Home), Soul Asylum (Let Your Dim Light Shine), Whiskeytown and many others. Al was with Peter Stampfel and the Bottlecaps and The Tall Lonesome Pines before The Schramms, and later Yo La Tengo, Beat Rodeo, Paul Presti (of the Unholy Modal Rounders), The Tractors, Riff Doctors, and a Gene the Singing Plumber. Ron contributed to the solo efforts of former Human Switchboard bandmates, Bob Pfeifer and Myrna Marcarian; he currently plays with Glenn Morrow's Cry For Help and Tammy Faye Starlite. Other erstwhile Schramms would go on to work with musicians like Ian Hunter, Ryan Adams, John Mayer, Little Steven, et al.
So The Schramms have been keeping busy since their last album's release – Omnidirectional wound up being recorded in sporadic bursts over the course of a decade, but the end results show it was a labor of love for all involved and well worth the wait.