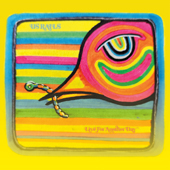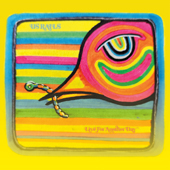 In the 2000s, the prominent quartet US RAILS was one of the most reliable and hard-working acts on the Blue Rose label. The Americans have released no less than five studio productions in the past decade alone – in addition to a number of live, cover and acoustic albums, numerous European tours have led to a constant increase in their fan base. Ben Arnold, Tom Gillam, Scott Bricklin and Matt Muir (as well as Joseph Parsons in the early days) are all strong singer/songwriters in their own right with a long list of individual solo projects. Live For Another Day is the name of the brand new release that has been eagerly awaited after the compulsory Corona break. Its ten self-written songs are bursting with zest for action, versatility and the band-typical sound of melodic rock'n roll full of guitar load and vocal bliss!

So now, after three years of US Rails abstinence, Live For Another Day is being released in time for the upcoming, most extensive European tour of the popular band. And this time nothing should come between them! The ten tracks prove that the four haven't forgotten anything – on the contrary: Everything here shows that they had a lot of strength and creativity during the break and that they threw themselves into the recording sessions with great joy! At the start, keyboarder Ben Arnold sings the title song he wrote himself, a vehement rocker with an irresistible refrain, with his distinctive, soulful, smoky lead voice and raises the level of quality right away. This is followed by Scott Bricklin's folk-rock, acoustic/electric arrangement 'Can't Let It Go'. Not only does he function as the standard bass player for the US Rails, but also convinces as a multi-instrumentalist on various guitars and mandolin, among other things, and sings with a strong, bright voice. Backed by Arnold on accordion, this track is reminiscent of another hugely popular Philadelphia band, The Hooters. With the catchy 'Too Much Is Never Enough', guitarist and singer Tom Gillam succeeds in another of his typical Rock'n Roll numbers: loud, uncompromising, unleashed rocking! It's part of the good team atmosphere that the fourth member, Matt Muir, full-time drummer but also responsible for the sound as a recording engineer and mixer, is at the center at least once per album. Here he sings his latest composition, the compact, catchy 'Walk Away', which will certainly compete with his signature song 'Don't Take Me Now' for many years, especially at the upcoming live concerts.
The creamy, soulful ballad 'What Did I Do?' Scott Bricklin then provides a first well-placed rest phase, Ben Arnold on the piano and Tom Gillam on the electric slide set small, targeted instrumental hits before Arnold's 'No Better Love' gets us moving again with its easy-going rhythmic shuffle grooves. Tom Gillam's melodic mid-tempo rocker 'Feels Like A Heartache' comes across as absolutely dominant with all those layered electric guitars and mighty four-part harmony vocals before kicking off the final round with Bricklin's 'Lay Your Head On Me'. On 'Road To Hell' Gillam is allowed to show off his ″mean & bad ass″ rocker heart and Arnold makes a clear commitment to his favorite topic ″powerful, smooth soul rock with plenty of vintage R&B″ for the perfect finish with 'End Of Time'.
After the long pandemic break, US Rails quickly found each other again in their home studio in Pennsylvania and recorded a complete new album with audible joy of playing. That turned out to be ten super-fresh, consistently great songs, each of which stands on its own and really calls for enthusiastic celebrations in our clubs on the forthcoming live tour!