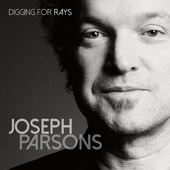 There are beautiful melodies and insightful lyrics, a sound of wide-open spaces and a vibe that's both timeless and contemporary, and there's this majestic elegant voice. Joseph Parsons' new album Digging For Rays has got everything you want from a song-oriented album in 2019 and then some. Sure, Parsons is a singer-songwriter but he's also a widely-traveled musician in the here and now and his 13th studio album effortlessly reflects both.

The Pennsylvania & Louisiana raised artist currently residing in Germany draws from the familiar well of folk and rock to create something new – a music that's exciting and current without eschewing its roots or catering to the dance-oriented zeitgeist. In other words: It's the kind of album this writer thinks you've been waiting for.
Songs like "Living Things" with its propelling beat, the acoustic, elegiac "Sad Parade", the dark, driving rocker "Wide Awake" and the beguiling "Beautiful Lie" all sound fresh and original and are elevated by a one-of-a-kind voice. Parsons is a deliberate, controlled singer who conveys emotional depth with subtlety and nuance – and a lot of lure.
Digging For Rays is Parsons' way of saying "searching life for a little light, for rays of hope & sunshine" – sorely needed considering the shape the world is in and, specifically, his home country. "I'm still an optimist even when things look bleak", Parsons says. Music helps him maintain his equilibrium and positive outlook.
Over the course of a dozen studio albums, various live & collaborative projects and more than twenty years of touring, Joseph Parsons has established himself as a world class singer and writer, great all-around musician and an immensely personable performer. And yet he still keeps pushing himself, adding modern sounds to his palette to create another eminently listenable album that reveals deeper layers with every repeated listening. Some of his songs are introspective and provide keen insight, while others are written from the vantage point of an astute observer and chronicler of this ever-changing world. It is a world he knows well having lived in many places over the years from Los Angeles to Baghdad to Berlin.
Parsons also draws from artists like songwriting greats James Taylor, Cat Stevens, Bob Dylan, Jackson Browne and outside-the-box-thinkers like Miles Davis, Paco de Lucia, Bob Marley and Daniel Lanois. From these ingredients he creates original music unconcerned with fitting into a specific genre. The only thing that counts for Parsons is a good song. And how does he measure if it's a good song? "When it reaches the heart & soul of the listener," Parsons says. Undoubtedly, the 10 songs of Digging For Rays do exactly that.