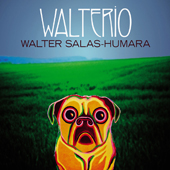 For years, Walter Salas-Humara has split his time between making music and visual art, so it's not surprising that Walterio, his new release on Blue Rose Records, contains rich imagery — both lyrically and on its cover. But one of the strongest images it evokes actually comes from the music itself, which might be described as the sonic equivalent of a tree — a rock 'n' roll family tree. Salas-Humara was made in Cuba but born in America (the album's title is his Hispanic nickname). He spent a good chunk of his Florida childhood studying drums, which, of course, led to teenage rock 'n' roll bands.

Tracks such as "Here We Go," "She's a Caveman" and "Out of the Band" can trace lineage back to The Silos, the still-kicking band Salas-Humara co-founded in New York's post-punk '80s scene. Playing alt-country before anyone called it that, they were named "Best New Artist" in the 1987 Rolling Stone Critics Poll— which temporarily deep-sixed Salas-Humara's art-career plans.

Walter Salas-Humara joined Blue Rose in 2001 with the Silos album Laser Beam Next Door and has released another eight albums on the label since then. With five records by The Silos and four under his own name Walterio marks the 10th release in seventeen years!