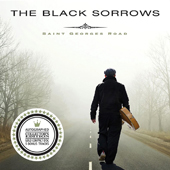 Finally available – exclusively in Europe through our mailorder – is the vinyl edition! Worldwide limited to 600 copies, 180g vinyl, gatefold cover, with lyrics printed inner sleeve, LP-size poster with many photos, front cover hand-signed and numbered by band mastermind Joe Camilleri. We have limited stock available!
Joe Camilleri and THE BLACK SORROWS are thrilled and proud to announce the world-wide release of Saint Georges Road on 10th September through Ambition Records. To celebrate this milestone – and to make this record truly special – Joe Camilleri reunited with Grammy nominated Peter Solley – producer of Jo Jo Zep and the Falcons' breakthrough album Screaming Targets ('79) that featured Joe's first Top 40 hits, "Hit and Run" and "Shape I'm In".
Saint Georges Road showcases 11 original tracks written by Joe Camilleri and his long-time writing partner Nick Smith.
Before they embarked on the project, Peter Solley asked Joe one question, "What kind of record do you want to make?" Joe replied, "A good one."
"This album is a testament to Joe Camilleri's long-lasting career and his burning desire to keep working at his craft. The album shows the power of love and inspiration that spans 40 years of our lives," says Peter Solley, who also adds his Hammond B3 and keyboards to the record… "I'm sure, Saint Georges Road will inspire Joe's fans as well."
At the final listening session, as the title track was played, Joe recalls a profound moment, "We were two like-minded souls coming together for what could be the last time… we knew we had something special… a record that was a culmination of everything I'd done before and probably the best record I've made." The following day Peter Solley headed back to his home in the US. The day after that, Australia's borders were shut.


THE BLACK SORROWS are one of Australia's most prolific and enduringly popular bands renowned for their high-energy live shows, musicianship, and infectious, roots-soaked blues rock. They've sold more than two million albums to date and won an ARIA Award for Best Group.
Joe Camilleri has been at the forefront of Australian music for decades as the leader of Jo Jo Zep and The Falcons and The Black Sorrows and as writer of radio anthems "Hit & Run", "Shape I'm In", "Chained To The Wheel", "Harley & Rose" and "Never Let Me Go".
Joe Camilleri is an ARIA Hall of Famer and at 73 years old, a rock'n'roll lifer. Not ready to hang up his boots just yet, he's working on his 51st album. It's what he does.
Saint Georges Road is exclusively in Europe on CD through the Blue Rose Records mailorder. As a limited edition Blue Rose is offering the deluxe edition of the album which includes 5 bonus tracks in a deluxe signed package by Joe Camilleri and a 12 page booklet.
"Somewhere a curtains falls", Joe Camilleri sings in Another Blue Day, a standout on The Black Sorrows' 19th studio album. "It's the end of the play. For me, it's just the start." And though this is the 50th album in his remarkable career – yes, 50th – Camilleri crackles with the vitality of an artist who's just embarking on his musical journey. If you need proof, check out the exhilarating Livin Like Kings.
Reunited with English producer Peter Solley (who helmed 1979's Screaming Targets with Jo Jo Zep and The Falcons), Saint Georges Road is sophisticated, soulful and superb, a crowning mioment in a career that refuses to look back. Yep, consider this the end of Act One. There's a lot of life left in Joe Camilleri. (JB-Hi Fi Stack Magazine)