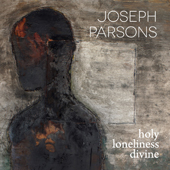 This is a pre-order. The item won't be shipped before 11.11.2022. If you want to order other items please place a separate order so those items are not delayed.
Holy Loneliness Divine is the latest and final record from the JOSEPH PARSONS BAND (JPB), as the members disperse to follow their individual musical paths. To mark that milestone, the band has created a record that fully realizes its signature sound, forged from countless recording sessions and live shows. From the opening anthem, "Dreaming a Universe", the songs bite hard on the world's march towards an uneasy future while finding hope in it's not-so inevitable path. The journey includes moments of deep confusion followed by epiphanies and emerging clarity, while some age-old love songs balance out the mix. It's an unpretentious record that provides a deeper sense of Parsons' writing style, along with the themes and visions that he has pondered in these last few years. Some of the stories are provincial, some are worldly; but always relatable. A deep sense of "life-lived" emits from the disparate yet cohesive and hopeful tones.

Tonally, the record is a rock record mining the depths of traditional instruments – drums, bass, electric and acoustic guitars, piano – with touches of modern flavors to accentuate moods and provide ear candy to the headphone enthusiasts among us. Musical production is almost as big a part of Parsons' palette as the songwriting itself. When performed solo, the songs hold up beautifully and display the range of Parsons' edgy songwriting style. In the studio, the band's full, uncluttered arrangements expand those edges and bring the listener an enhanced musical landscape of each of
the songs. This is underpinned by the soaring electric guitar solos and pristine vocals throughout.
While the songs were written by Parsons and much of the record was produced & mixed by him as well, each member of the band fully produced and mixed one song – top to bottom – from a guide vocal & acoustic track Parsons recorded in his studio. This showcases the amazing talent and evolution of the band individually and collectively and their ability to reach the 'zone' wherever they are. The record is a document of a band firing on all cylinders, creating a work that is energetic and vital, showcasing some of Parsons' most consistent songwriting to date.
Going out at the top of their game, JPB has disbanded to pursue other demanding musical projects.
This is Parsons' 15th full length studio record and his 25th studio record including the bands he has founded or co-founded (Hardpan, US Rails, 4 Way Street, Parsons Thibaud). He also has released numerous live albums and singles.