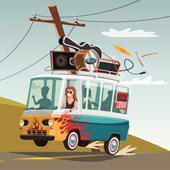 A few months ago we had announced the end of our compilation CD series Blue Rose Nuggets with the release of issue #100. However, all the remaining issues are still available for purchase for € 5,00.
We still want to thank our devoted customers with an exclusive free CD of an order with four items and more. We are making a re-launch of the Blue Rose Collection series which was sent in hiatus in 2008 with issue #12. The difference is that the new editions are not available in regular outlets but like the Nuggets series through the Blue Rose mailorder only, limited to 300 copies each issue. Of course the CD is also available for purchase for only € 5,00. When compiling this new collection we were trying not to use songs we have already put on the Nuggets series but please forgive us if it doesn't work for all the selected tracks.
A copy of the Blue Rose Collection 13 issue will be added automatically as a giveaway to orders with four and more items.
The tracklist of Blue Rose Collection 13:
1. THE GREAT CRUSADES – IF YOU COULD ONLY SEE ME NOW / taken from the album "Until the Night Turned to Day" (BLU CD0695)
2. WILLIE NILE – TROUBLE DOWN IN DIAMOND TOWN / taken from the album "World War Willie" (BLU DP0683)
3. WATER AND SAND – CONFESSION / taken from the album "Catching Light" (BLU DP0738)
4. THE BLACK SORROWS – LOVER I SURRENDER / taken from the album "Citizen John" (BLU DP0722)
5. THE BAND OF HEATHENS – SUGAR QUEEN / taken from the album "Duende" (BLU DP0692)
6. US RAILS – TAKE YOU HOME / taken from the album "Mile By Mile" (BLU DP0739)
7. HARDPAN – MIRACLE CURE / taken from the album "Hardpan" (BLU DP0700)
8. STEVE WYNN – CRAWLING MISANTHROPIC BLUES / taken from the album "Solo! Acoustic (Vol. 1)" (BLU DP0740)
9. THE BRANDOS – WOODSTOCK GUITAR / taken from the album "Los Brandos" (BLU DP0670)
10. MATTHEW RYAN – BATTLE BORN / taken from the album "Hustle Up Starlings" (BLU CD0701)
11. NORA JANE STRUTHERS – LET'S GET THE DAY STARTED RIGHT / taken from the album "Champion" (BLU DP0714)
12. MARKUS RILL AND THE TROUBLEMAKERS – INSIDE THE WHEEL / taken from the album "Songland" (BLU DP0734)
13. JESS KLEIN – BLAIR MOUNTAIN / taken from the album "Back To My Green" (BLU DP0727)
14. THE WYNNTOWN MARSHALS – BALLAD OF JAYNE / taken from the album "After All These Years" (BLU DP0698)
15. RICH HOPKINS & LUMINARIOS – A STONES THROW / taken from the album "Live At El Lokal" (BLU DP0737)
16. DAN NAVARRO – NIGHT FULL OF RAIN / taken from the album "Shed My Skin" (BLU DP0729)
17. BOTTLE ROCKETS – WAY DOWN SOUTH / taken from the album "Bit Logic" (BLU DP0726)
18. HANK SHIZZOE – CALIFORNIA / taken from the album "Steady As We Go" (BLU DP0725)