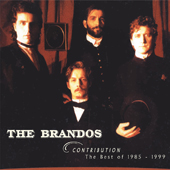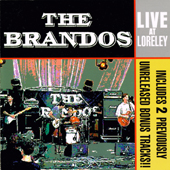 Blue Rose Records will be releasing the entire pre-Blue Rose catalog of the Brandos on CD, vinyl and digitally! The first batch of three CDs will be out on May 25, followed by another three on June 22 plus two more on July 20 . Vinyl copies will be available in September.
THE BRANDOS owe their name to their love of Marlon Brando. Their fans know them as one of the most vital American live rock bands of the 20th century's final decades. THE BRANDOS, known for timeless classics like "The Solution" and "Gettysburg" and their straight and true rock sound, were founded in 1986 with the line-up of David Kincaid (voc, g, mand, banjo), Ed Rupprecht (g), Larry Mason (dr) and Ernie Mendillo (b, voc) in New York City.
The compilation Contribution – The Best Of 1985-1999, originally released in 1999, covers an almost fifteen year career with fourteen songs from the to that date released five studio albums plus two previously unissued tracks, "Hallowed Ground" and "My Way To You".
In the summer of 1999 the Brandos did another European tour with the line-up Dave Kincaid (voc, g, mandolin), Ernie Mendillo (b, voc), Frank Giordano (g, voc) and Tom Engels (dr, voc). One of the anchor dates the four piece played a outdoor festival for German TV show "Rockpalast" at Loreley on July 9th. The set included nine songs, two more live tracks have been added to the disc: "I Got It", a Little Richard cover, was recorded at the Stadtfest in Bremen, Germany in 1987, another one in 1998 at the Kongresshalle in Gießen, also in Germany.
Live at Loreley was only available at Dave Kincaid's label Haunted Field Music and sold out pretty fast. For the first time it's not only issued on a European label but also as digital edition.