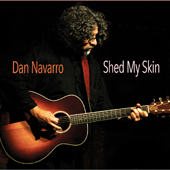 Shed My Skin ist das lang erwartete Solodebüt des aus Los Angeles stammenden Dan Navarro, nach 14 Alben in über 20 Jahren mit Lowen & Navarro. Das Duo war in den 90er Jahren Stammgast im US-Radio. Seit dem Rückzug von Eric Lowen 2009 wegen einer Sklerose-Erkrankung tritt Navarro als Solokünstler auf. Lowen verstarb 2012.

Shed My Skin wurde produziert von Gitarrist Steve Postell (Danny Kortchmar, Jennifer Warnes, Little Blue) und enthält Duette mit Bluessängerin Janiva Magness, Hit-Songschreiberin Wendy Waldman (Vanessa Williams, Nitty Gritty Dirt Band), Grace Pettis und Brother Sun. An den Aufnahmen waren herausragende Studiomusiker der LA-Szene beteiligt wie Danny Kortchmar (James Taylor, Don Henley, Jackson Browne), Leland Sklar (James Taylor, Phil Collins), Butch Norton (Lucinda Williams), Bob Malone (John Fogerty), Debra Dobkin (Bonnie Raitt, Was Not Was), Tony Furtado, Phil Parlapiano (John Prine, Grant Lee Buffalo), Joel Tepp (Bonnie Raitt, Danny O'Keefe), Freebo (Bonnie Raitt), Dennis Edwards (Eddie Money), Brendan Buckley (Shakira), Jon Ossman (Marc Cohn, Paula Cole); Aubrey Richmond (Shooter Jennings), David Glaser und Peter Adams.
Das Album enthält acht Navarro-Songs und vier Covers, zwei von alten Freunden – "Night Full Of Rain" von Kenny Edwards und "You Drove Me Crazy" von Tom Wilson (Blackie & The Rodeo Kings, Harvey Lee Osmond) in einem Duett mit Janiva Magness. Das Album wird abgerundet von einer eindringlichen Coverversion von Billy Idols "Sweet Sixteen" und dem Jimmy-Webb-Standard "Wichita Lineman" in einem opulenten neuen Arrangement.
In seiner langen Karriere als Songschreiber hat Navarro Pat Benatars Grammy-nominierten Klassiker "We Belong" geschrieben, ein Top-5-Song in 30 Ländern, sowie Songs für die Bangles, Dave Edmunds, Dionne Warwick, Jackson Browne, Keb' Mo', The Temptations, die Hip Hop-Pioniere TKA, Jon Ondrasik (Five For Fighting), Nile Rodgers, The Triplets (Platz 14 der US Charts), den niederländischen Star Marco Borsato (Platz 9 in Holland)oder für den irischen Star Tommy Fleming.
Seine Songs sind in zahlreichen Filmen und Fernsehserien zu hören, zum Beispiel in Deadpool 2, Pitch Perfect 2, Talladega Nights, Blue Valentine, The Office, General Hospital, Melrose Place, Sunset Beach, Die Farbe des Geldes, The Voice, X-Factor und in Dutzenden MTV und VH-1 Specials.
Dan Navarro hat als Sänger bei Alben von Neil Young, Susanna Hoffs, Andrea Bocelli, Julio Iglesias, Enrique Iglesias, Jon Anderson von Yes sowie in hunderten von Werbespots mitgewirkt.
Seit über 20 Jahren ist Dan auf Tour, bis 2008 mit Lowen & Navarro, seitdem solo mit Auftritten als Headliner und/oder auf der Hauptbühne des Kerrville Folk Festivals, Woody Guthrie Festivals, Rocky Mountain Folks Fest, Vancouver Island Music Fests, Falcon Ridge Folk Festivals, in Mc Cabe's Guitar Shop, Birchmere, Rams Head Onstage, Bitter End und Bottom Line, Caffe Lena, The Ark, Swallow Hill, Freight & Salvage, Park West, the 12-Bar, Aqvarium, Cobblestones und Mother Red Cap – in den gesamten USA, in London, Stockholm, Dublin und anderswo.