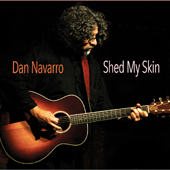 Shed My Skin is Los Angeles native Dan Navarro's long-awaited first studio album after 14 albums in 20+ years with Lowen & Navarro, Triple A Radio mainstays in the 1990s. Dan went solo in 2009 after the retirement and subsequent death of Eric Lowen due to ALS (MND).

Shed My Skin is produced and guitarred by Steve Postell (Little Blue, Danny Kortchmar, Jennifer Warnes) featuring a duet with blues singer Janiva Magness, hit singer-songwriter Wendy Waldman (Vanessa Williams, Nitty Gritty Dirt Band), Grace Pettis and Brother Sun, plus players Danny Kortchmar (James Taylor, Don Henley, Jackson Browne), Leland Sklar (James Taylor, Phil Collins), Butch Norton (Lucinda Williams), Bob Malone (John Fogerty), Debra Dobkin (Bonnie Raitt, Was Not Was), roots artist Tony Furtado, Phil Parlapiano (John Prine, Grant Lee Buffalo), Joel Tepp (Bonnie Raitt, Danny O'Keefe), Freebo (Bonnie Raitt), Dennis Edwards (Eddie Money), Brendan Buckley (Shakira), Jon Ossman (Marc Cohn, Paula Cole), Aubrey Richmond (Shooter Jennings), David Glaser and Peter Adams.
The songlist on Shed My Skin features eight Navarro originals plus four covers, two by old friends, Kenny Edwards ("Night Full Of Rain") and Tom Wilson of Blackie & The Rodeo Kings and Lee Harvey Osmond ("You Drove My Crazy", a duet with Janiva Magness). Rounding out the album are the haunting "Sweet Sixteen" by Billy Idol and the Jimmy Webb standard "Wichita Lineman" in a sumptuous new arrangement.
Dan's long songwriting career includes Pat Benatar's Grammy-nominated classic "We Belong", Top 5 in 30 countries, plus songs recorded by The Bangles, Dave Edmunds, Dionne Warwick, Jackson Browne, Keb'Mo', The Temptations, freestyle hip-hop pioneers TKA, Jon Ondrasik (Five For Fighting), Nile Rodgers or The Triplets Billboard US #14 single "You Don't Have To Go Home Tonight"), among many others.
His songs have appeared in films and TV shows as "Deadpool 2", "Pitch Perfect 2", "The Office", "General Hospital", "Melrose Place", "The Color of Money", "American Dad", "American Idol", "The Voice" and dozens of MTV & VH1 specials.
Dan tours constantly, for over 20 years with Lowen & Navarro and since 2008 as a solo artist, with headline and mainstage performances in legendary acoustic/roots venues and festivals, including The Kerrville Folk Festival, The Woody Guthrie Festival, Rocky Mountain Folks Fest, Vancouver Island Music Fest, The Falcon Ridge Folk Festival, McCabe's Guitar Shop (Santa Monica CA), The Birchmere (Alexandria VA), Rams Head Onstage (Annapolis MD), The Bitter End and The Bottom Line (NYC) and many more.
Lowen & Navarro were listed in the "100 Most Influential Independent Artists" by Performing Songwriter Magazine in 2008.