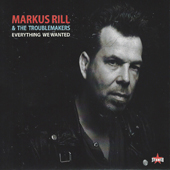 25 years after his debut album MARKUS RILL releases Everything We Wanted, an album that brings together all his strengths: profound, wide-ranging Americana songs, gripping rock'n'roll and stirring soul with intelligent, touching lyrics. The 14th album is indeed a high point and culmination in the work of the singer-songwriter with the sandstone voice. There's no other aetist in Germany, probably in all of Europe, who's closer to Steve Earle, John Hiatt, Mellencamp, Tom Petty, no one who does his roots rock thing more authentically than the 51-year-old native of Frankfurt/Germany.
"My goal as a songwriter has always been to write every kind of song I like listening to myself – but with my own twist, of course," Rill says. He succeeds almost effortlessly with the 14 songs on Everything We Wanted. It's easy to hear that Rill draws inspiration from Texas, from Nashville and Memphis, from the heyday of rock'n'roll as well as from the present. It's just as clear that Rill is a confident original artist, with his own point of view, the ability to create poetry out of everyday language, and that unique voice.

The album opening title track is a catchy listen and unmistakably a song from and of the here and now. "The air was pure, water was clean … we had everything we wanted till we wanted more" Rill sings over a pulsating groove. Moving from finger-pointing to reflection in the last verse gives the song special depth. Rill receives congenial supported from his longtime band, The Troublemakers, augmented by a few guests.
"During the pandemic a lot of great musicians had time to contribute to my album," says Rill. Thus, Jen Gundermann, a much in-demand musician and member of Sheryl Crow's touring band, was available to record with Rill 15 years after their last collaboration. She provided brilliant piano and organ parts on the title track and the entire album. Backing vocalists Elizabeth Lee from Texas, Camille Bloom from Seattle and Rill's buddy Robert Oberbeck are also an integral part of the album's always convincing Americana sound.
The same is true for longtime Blue Rose labelmate Todd Thibaud who stands out as a co-songwriter and duet partner on the laid-back midtempo rocker "Heart Up Yet." The record continues with "Hope Waits," an inspiring folk-flavored ballad of the highest order. "It perches in the soul, holds on tight and won't let go – hope waits." That's Rill drawing from Emily Dickinson and Glenn Campbell.
The songwriter and his Troublemakers explore some new avenues, leaning into crisp the riff-rocker "Never Trust Forever" and into "Tumblin' Dominoes" which is a hats-off to the Georgia Satellites and the Rolling Stones. And there's even a first horn appearance on a Rill record. Jim Hoke and Roland Barber who have played with Aretha Franklin, Keb' Mo', Paul McCartney and Dolly Parton are giving "Where I Belong" some soulfire. "The idea for the song came from my guitarist Maik Garthe after we opened for Southside Johnny & The Asbury Jukes." Further forays into new territory lead to the Nick-Cave-meets-Time-Out-Of-Mind-like "The Mystery Of You" or the wondrous groove-folk of "Color Of My Heart."
But of course, there's also another a number of those compelling storytelling songs that are Rill's great strength and have won him a slew of songwriting awards. "Flesh & Blood & Bone" blends twang, Trump, Prine and human dignity with an an enticing alt.country gallop. "Country Town" is an irresistible flannel-shirt, roll-up-your-sleeves roots rocker. The atmospheric outlaw brew "Slack" and the piercing narrative "Get Paid" combine strong lyrics with compelling rhythms. Album closer "Monochrome" is a spartan but touching work of grief. And then there's the outstanding "Always Trusted You," a mountain of a song, Rill's moving ode to his late mother.
The Troublemakers with drummer Leonardo von Papp, bassist Chris Reiss and string master Maik Garthe (baritone, slide, 6- & 12-string guitars, dobro and mandolin) are proving themselves once more as a rhythmically as well as sonically versatile backing band. Rill sings with soul, sensitivity and power, making you believe every word he says.
In short, this is a whopper of an album. It delivers on everything Rill learned during his time in Austin, Texas, during three studio productions in Nashville, during concerts with Townes van Zandt, Rosanne Cash and Southside Johnny as well as about 1,000 gigs in dive bars, clubs and on big stages. Outstanding songs, a variety of sounds, classy performances. Everything We Wanted is for Markus Rill & The Troublemakers what Wildflowers was for Tom Petty.