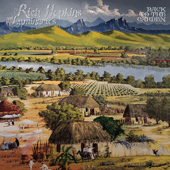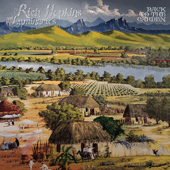 The passion, energy and tenacity with which Rich Hopkins releases a new album every two or three years is nothing short of admirable. It's no wonder they call him the godfather of desert rock made in Tucson, Arizona. His albums usually coincide with a European tour and they usually hit the spot with his longtime fans. His new album Back To The Garden is a case in point. In terms of form, content and, most importantly, quality it fits right in with the long line of top-notch releases by Rich Hopkins & Luminarios. The desert is alive and desert rock will survive until you prise Hopkins's guitars from his cold dead hands. And just so we're clear: his electric guitars!! On these eleven numbers they dominate once again a striking mix of epic rock anthems, sandy folk rock, trusty 60s/70s rock'n'roll values, some jingle jangle guitar pop and a healthy helping of psychedelia – especially on the longer tracks with extensive instrumental flights of fancy. It is obvious that Back To The Garden is a formidable blueprint for the upcoming live shows.

After three decades of making music, Rich Hopkins has become synonymous with dusty, guitar-drenched desert rock from the American Southwest. After all his well-documented activities as leader of the Sidewinders, Sand Rubies, Underbelly and many other projects, the Luminarios are still his central focus – with himself being the only irreplaceable band member, of course. Since 1992 they have been active as a trio, a four-piece or a five-piece band or simply a loose collection of Tucson, Arizona musicians. Early on, Rich was heavily influenced by Neil Young & Crazy Horse. In recent years he has become a more mature songwriter, has released some exciting concept albums and explored different styles and sounds. His great interest and empathy for his peers and their lives' circumstances have often led him to writing topical lyrics and becoming socially active. His 2010 album epic El Otro/The Other Side shone a light on the flip side of the American Dream. Its successor Buried Treasures (2012) brought real cosmic power, guitar jams and a garage-y high volume sound that was further developed on Tombstone (2016) and My Way Or The Highway (2017). All of these albums and most of the earlier ones were released on Blue Rose Records. Since 1996 Rich Hopkins has been one of the label's most reliable and loyal acts.
For over ten years Rich Hopkins has had a very close musical and personal partnership with Texan singer-songwriter Lisa Novak. They've not only gotten married, Novak has also become a member of the Luminarios since their honeymoon album Loveland (2008), co-producing, playing guitar, writing songs and also taking over lead vocals from time to time. Since they spend time between Tucson, Austin and Houston, the album tracks were recorded in all the three cities with varying musicians. The credits list of Back To The Garden contains many well-known names like multi-instrumentalist Paul Beebe (of Grand Old Grizzly), bassist Mike Therieau (ex-Shurman), drummer Darin Murphy, engineer Lars Goransson, longtime Hopkins cohort Jon Sanchez (with guitars and keyboards) and Damon Barnaby who already proved himself to be a great guitarist on the 2017 tour.
The new album starts with "Acoma Mary", a 6-minute hard-as-a-bone desert rocker and a new Hopkins anthem. Steve "The Deacon" Hunter (Lou Reed, Alice Cooper, Peter Gabriel and many more) shines on this track as a special guest with great additional guitar work. "Till I'm Gone" may be a bit breezier but it's still full of guitars, guitars, guitars and leads into an irresistible outro.
"Before" charms listeners with duet vocals by Hopkins & Novak, a hard rock guitar break in the middle and a psychedelic organ that lies over the track like a fog. The pulsating ballad "Coming Down Again" shows Hopkins in a more singer-songwritery mode without sacrificing the typical Luminarios guitars. Novak's backing vocals provide nuance before dozens of stacked acoustic and electric guitars lead this melancholic song into a steady stream of strings. "Get Off The Telephone" is a real abrasive rocker with confident talk-singing, harsh walls of guitars and – almost as a counterweight – very harmonic backing vocals with a Westcoast vibe. "Another State Of Mind" is something like a pop number, a jangly Byrds-meets-Tom Petty track. It's all done in 2 minutes and 37 seconds.
Stop, turn over. Restart with "Keep Shinin'", the only pure Lisa Novak song (the others are Novak/Hopkins co-writes). Her dark, alto voice somewhere between the Bangles' Vicki Peterson and Indigo Girls' Amy Ray shines on this one. "Always A Way" is another uptempo track, driving folk rock from the Arizona Texas highway. "Pissed" is – true to its title – an aggressive in-your-face-type punk song like we haven't heard from Hopkins in quite a while. In two simple verses Hopkins gets from his neighbors who dump their garbage in the street to the global destruction of nature. "Play the notes from my heart, try not to think about it very hard, the verse comes first, the chorus next…you play your part and I'll play mine", the album's third six-plus minute song, effortlessly explains the musical teamwork of Hopkins and Novak before the guitars find their way into an extended instrumental finish. This seems like a perfect album closer but, wait, there's the quasi-title track "The Garden", an 8.42-minute opus sung by Lisa Novak and built like a Southern rock epic. Over a tightly-woven tapestry of acoustic guitars, bass and drums, hypnotic electric guitars build into an irresistible psychedelic slow rock crescendo – what an emotional highlight to end this carefully constructed, mesmerized Luminarios album!