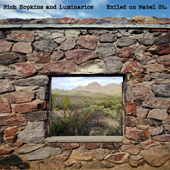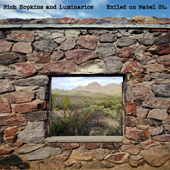 After three decades of making music, Rich Hopkins has become synonymous with dusty, guitar-drenched desert rock from the American Southwest. After all his well-documented activities as leader of the Sidewinders, Sand Rubies, Underbelly and many other projects, the Luminarios are still his central focus – with himself and his wife Lisa Novak (the couple wrote all the ten album tracks) being the only irreplaceable band member, of course. Since 1992 they have been active as a trio, a four-piece or a five-piece band or simply a loose collection of Tucson, Arizona and Austin, Texas musicians. Early on, Rich was heavily influenced by Neil Young & Crazy Horse. In recent years he has become a more mature songwriter, has released some exciting concept albums and explored different styles and sounds.
The new studio album Exiled On Mabel St effortlessly joins the ranks of earlier first-class RICH HOPKINS & LUMINARIOS releases in terms of content, sound and quality. The desert is alive and desert rock will be vibrant and fresh as long Rich Hopkins can hold a guitar. An electric guitar, mind you! On the album's ten numbers electric guitars dominate the sound and help create this striking mix of epic rock hymns, sandy folk rock, tried and tested rock'n'roll values from the 60s and 70s, jingle jangle guitar pop and a healthy dose of psychedelia.

Listening to tracks on Exiled On Mabel St, you can hear how comfortable Rich Hopkins is in embracing the musical styles of the past, and exploring his own creative instincts. Hopkins is a lot more than just an archivist. Aided by his talented wife, singer/songwriter Lisa Novak, he mines all areas of his life, as well as his observations of the world today, for the songs on Exiled. It kicks off with "A Message Of Hope", which acknowledges how everyone is struggling but says, "forgive yourself…you'll make mistakes". In the liner notes, he dedicates the song to Pastor David Dahlberg and says it was inspired by Steve Earle. In "Count On Me" he is singing to his lady love and reminding her that he has come through for her despite his problems. "Everybody Knows" is the reverse of the Leonard Cohen song of the same name, which has a dark cynicism at its core. Hopkins' song, rather, portrays how love cannot be hidden and shines so that everyone can see it.
Other standouts include "Prodigal Son", which is based on an encounter with an unhoused person that Hopkins had back in Austin, Texas. The outpouring of compassion in the song will surprise no one who knows the singer/songwriter – who served in the Peace Corps and has helped people on the streets in Tucson in various ways for many years. Be sure, also, to give a good listen to "I Don't Care", which has almost a Mexican guitar feel to it, and a message of rejecting the haters, and "Bataan Death March", a track about the infamous forced march of Filipino and American prisoners of war by the Japanese Imperial Army in 1942. The piece features sound effects, music that evokes the horrendous 60+ mile journey, and finds Hopkins reciting "The Lord's Prayer".