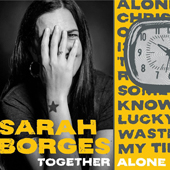 As an artist whose lifeblood flowed from these real-life exchanges of camaraderie and community, the Boston-based SARAH BORGES was faced with perhaps the most daunting question of her professional career: How to connect and continue as a vital and viable working artist amid a frightfully uncertain future fraught with unknowns. That's where the aptly named brand new album, Together Alone comes in. In a true-life twist on the old saying, "when life gives you lemons…," a homebound Borges did the one thing she knew how to do better than almost anything else. She picked up her guitar and started writing songs such as "Wasting My Time," which serves as a thematic linchpin of sorts for the new album. Even the job Borges took as an airport courier during the pandemic to keep the bills paid and home hearth burning proved creatively useful. The temporary gig translated into a boisterous new track, namely the lighthearted rave-up, "She's a Trucker," based on the multi-Boston Music Award winner's four-wheeling across state lines, carrying occasionally strange cargo.
Sarah received a huge help in the person of her longtime mentor Eric "Roscoe" Ambel, the venerable producer and guitarist who's played with everyone from Joan Jett & the Blackhearts to Steve Earle and the Dukes. More recently, Ambel's been Sarah's band mate and co-conspirator in addition to his usual job running his Cowboy Technical Services Recording Rig studio in Brooklyn, N.Y. Here's how it worked: One by one, Borges would send along her home-recorded guitar and vocal demos — with Sarah singing into her iPhone, and utilizing her clothes closet as a vocal isolation booth — to Ambel's home recording setup. He'd listen carefully to the rudimentary tracks, and then sort out who in his musical Rolodex might play what, where, when, and how. The tricky part, Ambel says, was that "I had to think of not only great players, but great players that could do a very good job recording themselves at home." Among those ready, willing, and able was ex-Bottle Rockets bass player Keith Voegele, residing in Springfield, Illinois. Another was Keith Christopher, Ambel's longtime Yayhoos band mate currently playing bass with Lynyrd Skynyrd and living in upstate New York. A talented trio of drummers scattered from New York to Nashville also sent in dispatches.
Sarah Borges proves she's a survivor, coming out of it stronger than ever, still gorgeously twangin' and rockin' down the road.