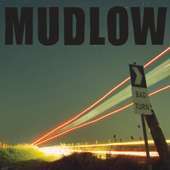 MUDLOW
ist ein seit 20 Jahren mehr oder weniger aktives Trio, welches sich im schönen Brighton an Britanniens Südküste bequem gemacht hat. In ihrer langen Karriere haben sie es immerhin zum Deep Blues Festival in den USAgeschafft und im Heimatland mit Bands wie Seasick Steve, Scott H. Biram, The Detroit Cobras, The Jim Jones Review und Alabama 3 die Bühne geteilt.
Gefährlich und ganz schön funky ist ihr Sound, eine Art dreckiger Blues, dessen Texte sich vorwiegend um Verlierer und die Unbill, die sie erdulden, ertragen und hinnehmen müssen, drehen. Inspiriert ist dieser Sound von Junior Kimborough, Tony Joe White, Jerry Reed und natürlich Tom Waits, aber Mudlow hat daraus ihre eigene Version gestrickt. Tobias Tester (Guitar/Vocals und Hauptsongwriter), Matt Latcham (Drums, Percussion) und Paul Pascoe (Bass/Produzent) legen mit
Bad Turn
erst ihr drittes volles Album vor, aber es ist mit Abstand ihr erstes, durchweg perfektes Werk.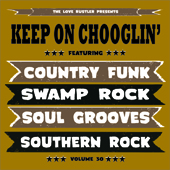 Inspiriert von Compilations wie Country Got Soul, Delta Swamp Rock oder Country Funk wird auf
Keep On Chooglin'
ein musikalischer Eintopf gekocht, der allerdings noch um einiges schmackhafter ist, als die eben erwähnten Sammlungen. Die Zutaten sind Cozmic Boogie, Deep Fried Gumbo Rock, Swamp Grooves, Country Soul, White Line Fever, Southern Funk, Greasy Blues und mehr. Zeitlich geht es hier um die Phase von zirka 1968-1974 (mit einigen Ausreissern nach oben, wenigen nach unten). Beim Wort Funk keine Angst haben, damals bedeutete das noch Groove und nicht "dicker Daumen". Vorher hatte man das noch nicht drauf, danach geriet der Sound oft zu slick und poliert.
Mit oben genannten Compis gibt es nur minimalste Überschneidungen, dazu ist die Mischung aus alten Klassikern und echten Fundstücken kaum zu übertreffen. Tief haben wir gegraben und lange probiert, bis der korrekte Flow erreicht war. Muffige Tracks (Produktion oder mangelhafter Vinyl-Rip) haben wir mastern lassen.
Volume 30/Mixed Green
kommt wie alle als CD-R, hat 22 Tracks und ist mit 78:30 Minuten prall gefüllt. Die CD kommt mit Covercard und Traycard in einer normalen Jewelbox. Das CD-Label ist bedruckt. Limitiert auf 50 Exemplare.