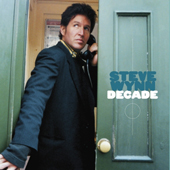 IN STOCK!
Steve Wynn first gained fame as lead singer and songwriter for the legendary Paisley Underground outfit The Dream Syndicate. But his post-Dream Syndicate solo career is the equal of any indie-rock singer-songwriter you'd care to name. Now, Real Gone Music and Steve Wynn have joined forces to release Decade (yup, the Neil Young reference is deliberate), an 11-CD set that chronicles, with lavish deluxe editions, the guitar-driven albums Wynn recorded between 1995 and 2005, most of which have been long out-of-print.
The statistics on this box set are mind-blowing: 166 tracks, 57 of them totally unreleased, plus 31 other rarities! That's right'over half of this 11-CD set consists of either hitherto unknown recordings or tracks that have been almost impossible to find! As for the other tracks, they hail from the following albums: the American releases Melting In The Dark, Sweetness and Light, My Midnight, Here Come The Miracles, Static Transmission, and 'Tick'Tick'Tick, and the German-only compilation entitled The Emusic Singles Collection (rare tracks from another European-only release, a collection of rarities entitled Pick of the Litter, appear here as well).
So where do all the unreleased tracks come from? Well, during this 10-year period, Steve Wynn recorded dozens of songs ' sometimes at home and occasionally in a proper studio. Many of those songs got re-recorded and revamped and became key memorable parts of his catalog. Other songs got tossed away and forgotten. For Decade, long-time Steve Wynn (and Dream Syndicate) archivist Pat Thomas in cooperation with Steve Wynn listened to about a hundred hours of unreleased tapes and compiled this amazing box set that not only includes remastered (by Mike Milchner of SonicVision) versions of some of Steve Wynn's best albums but also the first American release of the two rare European only titles. And ' it bears saying again ' 57 previously unreleased recordings that not even hardcore tape traders have heard! Several of these albums were recorded with Steve Wynn's core band of Linda Pitmon on drums, Dream Syndicate guitarist Jason Victor, and long-time Miracle 3 bass player Dave DeCastro. Along the way, there are appearances from Green On Red keyboardist Chris Cacavas, Giant Sand's Howe Gelb, indie chanteuse Barbara Manning, Chris Brokaw & Thalia Zedek of Come, Tony Maimone of Pere Ubu, John Convertino of Calexico, Rich Gilbert and many others. With so much material, you need a program'and so Steve Wynn himself has penned very detailed notes that tell the stories behind the origins of all 57y previously unreleased songs! Plus essays from box set producer Pat Thomas and several of Wynn's long time bandmates. And a pile of previously unseen photos…all inside a mammoth, full-color 48-page book!