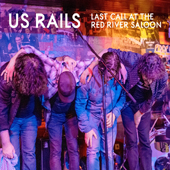 The US four piece US RAILS from Philadelphia, Pennsylvania had started in February 2020 for another extensive European tour through Spain, Italy, Germany, and the Netherlands. Shortly after their arrival in Spain all the booked shows had to be cancelled due to the Corona pandemic. The band tried to continue the tour in Italy but there was the same situation. In mid March it was obvious that the remaining 15 shows of the tour had to be cancelled so the show on March 15 at the "Red River Saloon" in Heilbronn, Germany was the final show of the tour before the lockdown.
It was not only the last show of the tour, it was also the last concert at the local music venue. The owner had sold the property months before and wanted to re-open after the lockdown for another few weeks but due to the pandemic the US Rails show was The Last Call at the Red River Saloon.
The show was recorded and contained 22 songs from the band's six studio albums, except one all songs written by the band members Ben Arnold, Tom Gillam, Scott Bricklin, and Matt Muir. The music covers the entire range of melodic rock for fans of The Eagles, Tom Petty, Jackson Browne or Randy Newman, just to mention a few.