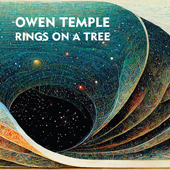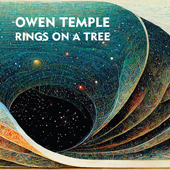 OWEN TEMPLE should be no stranger to long-time friends and customers of Blue Rose Records, after all with "Mountain Home" (2011) and "Stories They Tell" (2013) we have had two remarkable albums released from the musician from Austin, Texas. He took a lot of time for his latest work "Rings On A Tree". The new album, available through us on CD and 3-sided vinyl, is a concept album – an exploration of family history and the way every interaction we have resonates across generations.
"It is clear that our lives are a distillation and expansion of the lives that lie before us," Temple said. "Every life, every interaction of matter and energy, reverberates throughout the universe in an ever-expanding field. Waves of behavior that cause other waves of behavior, not just in one life, but in all of our lives. These songs weren't written because of Covid, but the lockdown gave me the opportunity to spend time with my family and think about where we came from and where we might be going," explains Temple. He adds: "I have songs with me for this collection Hal Ketchum, Walt Wilkins, Kelley Mickwee, George Ensle, Nathan Hamilton, Brandon Bolin and Jamie Lin Wilson. Gordy Quist produced the sessions. Steve Christensen turned the controls, Rick Richards played drums, Josh Flowers played bass, Geoff Queen played guitar, Noah Jeffries played violin, and Trevor Nealon played keyboards and organ. Tina Wilkins, Walt, Gordy and Kelley sang harmony vocals. I saw all these people working and playing up close, and they put their heart and soul into every note and every line."
You can find the complete story about the album under the album in the webshop.