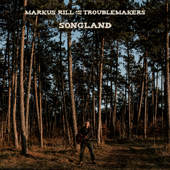 If you go into the studio planning to hopefully record ten songs in ten days and you come out the other end after little more than half this time with all 15 of your new songs recorded and in the bag, you have every right to call that a successful session! This happened in late October of 2018 at 7V studios in Bockenem/Germany to Markus Rill – considered by experts and fans to be Germany's finest Americana artist for more than 20 years – and his band The Troublemakers as they recorded their brand-new album Songland. The title tells the story: Rill's

songwriting – the joy he finds in poetic, sometimes surrealist lyrics, in creative eloquence as a logical evolution of his earlier, purer storytelling – is at the heart of the album. Musically, Rill and his guys always play in service of the song and do so in absolutely terrific fashion. Not one of the 15 tracks falls short of the others in any way, so Rill's decision to forget about marketing ploys or saving any song as a possible bonus track makes perfect artistic sense. Almost an hour of Songland – a true feast for fans!
Since 1997 Markus Rill from Würzburg has been living proof that you don't necessarily need American genes to write and sing authentic folk & roots music. He's been touring in Germany and Europe for more than twenty years and has steadily released album after strong album which makes his back catalogue quite an impressive one. Since his second album, The Devil & The Open Road (1999), he's been signed to Blue Rose Records who have released most of his albums since then. There's the trilogy of albums recorded with some of Nashville's finest musicians – Hobo Dream (2004), The Price Of Sin (2006) and The Things That Count (2007) -, the meaty Americana songwriter effort Wild Blue & True (2011) and in early 2013 the tremendous band album My Rocket Ship, recorded with The Troublermakers. With Dream Anyway in 2016 Rill & band made a quantum leap. This gem was very varied, sounded fantastic and presented a mature artist with depth and rock'n'roll appeal at the apex of his abilities (up to now). In early 2018 he released Getting Into Trouble for his 20-year anniversary, a double album featuring new material and a collection of rare tracks culled from limited releases or collaborative albums with Swedish New Folk artist Annika Fehling or his German colleagues Hubert Treml & Franz Schuier.
In effect, Songland is the follow-up to Dream Anyway! It is perhaps a little less extroverted, a trifle less (heartland) rock-oriented while being very articulate and markedly strong in lyrics and musically diversified. There's folk & roots sounds, country rock, Americana, rock'n'roll and a heaping helping of Southern soul of the Muscle Shoals and Memphis variety. The Troublemakers are obviously an important component: Chris Reiss (bass) and Leonardo von Papp (drums) are an experienced, locked-in rhythm section providing great groove or a discreet pulse, depending on the needs of the song. New in the band is Maik Garthe who plays electric guitar, 12-string, baritone & slide guitars, dobro and banjo. Keyboardist Ecki Hüedepohl contributes tasty organ, piano, electric piano, accordion and harmonium. A defining characteristic of Songland's sound are the prominent backing vocals provided by Texas singer Elizabeth Lee and Rill's longtime collaborator Robert Oberbeck. Moroccan guembri virtuoso Rabii Harboune guests on one song. Rill plays acoustic & electric guitars and harmonica and sings convincingly. His characteristic sandstone voice has become an instrument he uses with increasing assurance and complexity in irresistible fashion.
Things get underway with two dynamic country rockers: "Saddle Up & Ride" and "Inside The Wheel" move swiftly from verses to catchy choruses – a strong start. "The Thing With Love" – co-written with globe trotter and singer-songwriter Daniel Hertzov – is a winsome ballad with soulful vocals about the doubts and hopes that love brings. Piano and a classy slide guitar along with impassioned backing vocals underline the soul component of Songland. There's even more of that on "Fearless", a quasi-spiritual co-written with well-known Swedish artist Eva Hillered, on the sensuous late night r&b of "A Love So Strong" and the monumental composition "Broken Man" which harkens back to classic Southern soul a la Dan Penn/Spooner Oldham ('Dark End Of The Street', 'Do Right Woman, Do Right Man')! "A Mistake Like Me" with its tongue-in-cheek lyrics about a loser pining for an unreachable woman and its great mix of r&b, blues & roots also belongs in that category. With its tight mix of fat guitars, sturdy piano, organ swells and intense, gospel-y backing vocals, the Troublemakers couldn't move much farther afield from country and folk.
But the album provides ample opportunity to return to their stalwart strengths, for example in "Length Of Rope", a quiet acoustic number ruminating on life's serpentine ways in a manner reminiscent of Guy Clark – augmented by a classy electric guitar that insinuates a wealth of emotion with very few notes. Or in "Emily", a beautiful folk rock ballad about a lost love that left its mark on the storyteller. From a restrained acoustic beginning the song escalates to a rousing finale. And there's "Conscience County Jail" about being held captive by regrets and bad decisions, pure Americana with economical electric guitar and pluckering banjo. "Swampland Of The Mind", a dark, blurry, bluesy number with atmospheric sounds from guitars and organs and the mystic vibe of Rabii Harnoune's guembri, a stringed instrument from the Maghreb world, is a standout track that'll find its sneaky way into the listener's mind. It's in stark contrast to the straight-ahead, Stones-ish rock'n'roll of "A Girl That's Gone (Ain't Comin' Back)" with boogie piano and succinct rhythm and slide guitar. "Words Of Apology" is a mature Americana track with accordion and melodic slide guitar not unlike folkier Springsteen material while "Old Man Now", a heartfelt tribute to Markus Rill's father, with its sparse instrumentation and passionate vocals sounds almost like an a cappella number. The album finale is another quieter track – "The Great Mystery" about mankind's eternal questions is thoughtful, sensitive songwriter folk of the highest order! What a remarkable, strong effort, this ending – and this entire adventure in Songland!