Mailorder English
18. November 2017
Blessed with a particularly attractive rasp of a voice, singer-songwriter and rock'n'roller MATTHEW RYAN is out to excite his fans and well-informed critics with his brand new Blue Rose album Hustle Up Starlings. It's a powerful comeback album and follow-up to the much-lauded Boxers, released in 2014, also on the label located in the South of Germany. Hustle Up Starlings is Ryan's 13th release since his debut album May Day in 1997 announced him as one of the most promising acts in the Springsteen-meets-Westerberg-folk-rock-songwriter camp.
If you go back to reading the accolades that practically every Matthew Ryan album received, it seems hard to grasp why he hasn't broken through on a bigger scale yet. Even in 2017 Matthew Ryan should be a household name when it comes to moving, hand-made, intelligent, accessible Americana rock delivered in a very special sandstone voice.
Is Hustle Up Starlings another critics' darling that's going to earn rave reviews and make it onto year-end favorites lists – or could it possibly achieve more? The conditions seem right for a success story.

Born and raised on the US East Coast (Pennsylvania, Delaware) Matthew Ryan moved into the East Nashville indie scene in the mid-90s. His first, promising albums May Day (97) and East Autumn Grin (2000) were released by a major label (A&M) before the record industry's situation changed drastically. Until 2010 Ryan released seven albums, some of them by himself, among them very well-received records like Concussion (2001), Regret Over The Wires (2003) and Matthew Ryan Vs. TheSilver State (2008). Disillusioned by unsatisfactory sales, Ryan announced that his 2012 album In The Dusk Of Everything would be his last. He left Nashville for East Pennsylvania. As luck would have it, there he met and became friends with Brian Fallon, frontman of folk/punk/indie rockband Gaslight Anthem. Soon thereafter, they started collaborating creatively.
Fallon booked Ryan to open the Gaslight Anthem tour and was happy to play guitar with him. But Ryan got inspired and started dreaming of more. In 2014 he released the terrific Boxers on Blue Rose, an album harking back to his May Day days. Produced by Kevin Salem (Dumptruck, Todd Thibaud, Freedy Johnston, Giant Sand) and featuring Salem and Fallon on electric guitars, Ryan rocked his way back into the hearts of everyone who doesn't consider Bruce Springsteen and the Replacements, Leonard Cohen and The Jam, or Bob Dylan and The Clash mutually exclusive but drawing from the same well where rock'n'roll and the singer-songwriter spirit meet.
06. November 2017
Since SUSTO released their second album back home in the States in the beginning of 2017, thing's been happening in a fast pace for the band. The album got great reviews, the band has been touring relentlessly and they've done several big, nationwide TV-shows, and SUSTO are no longer local, South Caroline heroes anymore, but a band breaking big in the US. And now they're finally ready for Europe as well.

A few years back, Justin Osborne needed a break. He'd been writing music and making albums since he was 15, and by the age of 26, he felt like he was spinning his wheels. He knew he needed a change, so he ended his old band Sequoyah Prep School and moved to Cuba. He thought he might be done with music for a while, but the songs just kept coming.
"I had this idea in my mind that I was going to try and join some kind of Latin American Leftist movement. I wanted to jump off a cliff," Osborne says. "Once I got there I immediately started hanging out with musicians and going to shows. I started showing them the songs from this project that was kind of just an idea in my head. They were like, 'man, don't throw away your passport, go home and continue to make music,'" he says. "I was encouraged by them to try again."
Osborne was already writing the songs for what would be SUSTO's 2014 self-titled debut when his producer Wolfgang Zimmerman introduced him to Johnny Delaware, a guitarist and songwriter who had moved to Charleston, South Carolina to make an album with the producer.
SUSTO is a Spanish word referring to a folk illness in Latin America that Osborne learned as anthropology student, meaning "when your soul is separated from your body," and also roughly translates to a panic attack. For Osborne, the music of SUSTO was something he had to get out into the world.
SUSTO released their debut album independently and toured relentlessly to get the word out. They were an immediate hit in their hometown, packing venues, getting airplay at all the bars and even making a fan of Band of Horses' Ben Bridwell. "I got an e-mail from him, telling me he loved the record and wanted to meet with me and Johnny," he says. "That was actually the day I wrote my professor, and I said, 'I'm not coming in.'"
The members of the live band that Osborne and Delaware recruited – Corey Campbell (guitar, keys, backing vocals), Jenna Desmond (bass), and Marshall Hudson (drums, percussion) contributed to SUSTO's new album & I'm Fine Today. "We just wanted to go further. We started something with the first record, and we want to keep going in that direction," Osborne says of the album, which finds them taking the spacey country rock of their debut into the stratosphere, piling on layers of sighing keyboards, galloping rhythms and frayed, noisy guitar solos atop wistful melodies and lyrics that examine growing up and growing into yourself. We put the first record out, and we worked hard, and it just feels like a good place to be," he says, noting that while the first record focused on his own struggles, & I'm Fine Today is more concerned with looking at the world beyond the struggles in your head.
"I've learned to appreciate the fact that I just get to be here. It's all perspective," he says. "This album is about coming to terms with yourself and feeling okay with your place in the universe."
24. Oktober 2017

When four singer-songwriters like TODD THIBAUD, CHRIS BURROUGHS, TERRY LEE HALE and JOSEPH PARSONS record an album together – all of them successful solo artists on Blue Rose or Glitterhouse – it doesn't feel far-fetched to call them a supergroup. They met on the road on various tours of Germany and realized that they get along well and have – in spite of differing styles and personalities – and undeniable chemistry.
On September 10, 2001 they met in Tucson, Arizona to record an album. But only hours later, other, bigger events came into focus. And yet, since they only had ten days together, they pushed the horrific scenes from New York aside. Maybe that is why they created such a homogenous, emotional and moving singer-songwriter album to which each of them contributed original songs and lead vocals. It was the birth of HARDPAN.
All of this happened 16 years ago. Because they all had their individual careers they did not have time to even consider a follow-up album. It was only when they played together at the Blue Rose Christmas Party at the Isernhagen Blues Garage in 2013 that the thought occurred to them. It took another three years until their schedules allowed them to come together in New Jersey early in 2017 to record a new studio album.
Since they did not plan to stray too far from the typical Hardpan sound, they focused once again on the artists' vocals and their interplay, embellished by unobtrusive instrumentation and subtle drumming. The new album features twelve new songs – each member contributed three original songs on which they took over the lead vocal. Four musicians, four different voices and different vibes create a unified atmosphere that very few solo artists achieve – that's the Hardpan sound.
30. September 2017
With the 84th edition of the Blue Rose mailorder exclusive CD series ""Blue Rose Nuggets"" season 7 is complete. It again includes songs from current Blue Rose releases plus tracks from the extensive 600 albums catalog as well as a previously unissued live recording by Micky & The Motorcars.
Tracklist:
1. PETER BRUNTNELL – Long Way From Home / taken from the album "Nos Da Comrade" (BLU DP0699)
2. GREG TROOPER – Dreams Like This / taken from the album "Upside-Down Town" (BLU DP0531)
3. WILLIAM CLARK GREEN – Remedy / taken from the album "Rose Queen" (BLU DP0630)
4. THE WOOD BROTHERS – Two Places / taken from the album "Paradise" (BLU DP0678)
5. JESS KLEIN – Dear God / taken from the album "Learning Faith" (BLU DP0637)
6. CORDOVAS – Louisiana Hurricane / taken from the album "Cordovas" (ROOTSY 143)
7. JON DEE GRAHAM – Holes / taken from the album "Full" (BLU DP0391)
8. LEEROY STAGGER – Angry Young Man / taken from the album "Dream It All Away" (BLU DP0668)
9. THE GREAT CRUSADES – King Of The Altered States / taken from the album "Until The Night Turned To Day" (BLU CD0695)
10. THE WYNNTOWN MARSHALS – Snowflake / taken from the album "After All These Years" (BLU DP0698)
11. AMERICAN AQUARIUM – Northern Lights / taken from the album "Burn.Flicker.Die." (BLU DP0586)
12. DRIVEWAY – Always / taken from the album "Driveway" (BLU CD0339)
13. HANNAH ALDRIDGE – No Heart Left Behind / taken from the album "Gold Rush" (ROOTSY 146)
14. THE BRANDOS – These Troubled Times / taken from the album "Los Brandos" (BLU DP0670)
15. MICKY & THE MOTORCARS – Love Is Where I Left It / recorded live at the "Red River Saloon" in Heilbronn/Germany on September 23, 2013 (previously unreleased)
15. September 2017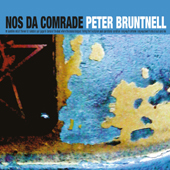 If you ask the likes of Peter Buck, Scott Mccaughey, Willy Vlautin, Jay Farrar, John Murry or Kathleen Edwards they'll all agree that
Peter Bruntnell
is a writer with rare and mysterious qualities, as a result of which Peter has toured extensively with Son Volt, Kathleen Edwards and Richmond Fontaine at the request of the artists.
When NME claimed that "Peter Bruntnell's records should be taught in schools", they were referring to the particular appeal of the quiet Devonian's songwriting craft. This new record returns emphatically to the earliest days of Bruntnell's career, a full-on electric psych-rock experience.
Recorded between February and June 2015 and self-produced by Peter, Nos Da Comrade (which means "Good Night Comrade" in Welsh) was recorded in Bruntnell's home studio in deepest Devon, and in the village hall in the idyllic village of Mortehoe, where the band simply set up and blasted out the tunes: Mick Clews (drums), Peter Noone (bass), James Walbourne (guitar), Dave Little (guitar), Dai Godwin on backing vocals and Peter Linnane (mastering engineer) on string machine.
Peter Bruntnell has a unique 'way with a tune' like no other contemporary artists. The most interesting thing about his music, and part of the reason for his devoted following, is the indefinable knack the songs have of locking into one's emotions in an elusive, intangible but deeply affecting way.