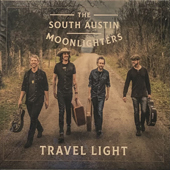 SOUTH AUSTIN MOONLIGHTERS – Travel Light
The South Austin Moonlighters from Austin, Texas are truly a band that won't let anything get them down! At the beginning of the 2010s, they started out with great ambitions as a permanent club fixture in the legendary Saxon Pub in South Austin – all of them seasoned musicians who had earned their spurs with well-known acts such as Stonehoney, Mother Truckers, Whiskey Sisters, Deadman and Mike Zito: Phil Hurley, Josh Zee, Lonnie Trevino Jr. and Phil Bass made a big statement in Texamericana rock right from the start, scoring points with their versatility of four songwriters/singers as well as a live EP and the first studio CD 'Burn & Shine' (2013, on Blue Rose). Some people already saw them as the next Resentments or Band Of Heathens! But it wasn't until 2016 that the next album 'Ghost Of A Small Town' (also on Blue Rose) was released with Chris Beall as the new guitarist and singer/songwriter for Josh Zee. Actually a really big hit and all fans of Little Feat, Los Lobos, the Beat Farmers, John Fogerty, John Mellencamp, the Flying Burrito Brothers and Arc Angels should burst into excitement! But somehow the good part disappeared, constant, national touring hardly took place, and personal problems threw sand into the team's gear. In 2019 the almost forgotten South Austin Moonlighters were reborn! With a new drummer (Daniel James for Phil Bass) and under the healthy influence of the famous guitarist Anders Osborne as producer and arranger, South Louisiana quickly found its way back to the old class – while band boss Lonnie Trevino Jr. did without his own material and lead vocals this time, The two guitarists Phil Hurley and Chris Beall dominated the scenario with three and five extremely strong songs respectively, in which two original cover versions also found their place: 'Machine Gun Kelly', Danny Kortchmar's legendary early masterpiece from 1970 (for James Taylor), as well as the iconic Stephen Stills medley 'Daylight Again'/'Find The Cost Of Freedom' to round off this fantastic CD. It wasn't just here that Beall & Hurley delivered their well-measured electric/acoustic guitar bravura with slide & solo interludes that simply make you happy!!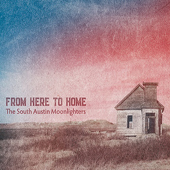 SOUTH AUSTIN MOONLIGHTERS – From Here To Home
And once again – of course also due to Corona – far too long a time passed before the South Austin Moonlighters found their way back into the spotlight! Four years have passed since their comeback album 'Travel Light' and, of course, there has been another personnel change: founding member, singer, songwriter and guitarist Phil Hurley has left to pursue a solo career. His replacement is Hunter St.Marie, who has been in the Austin scene for a long time and has proven his quality with various projects. He focuses on S.A.M. fully on the 6- and 12-string guitars, with and without slide, defining his role as lead guitarist as much darker, earthier, sharper and more experimental than Hurley before. His song and lead vocal parts are now again taken over by bassist Lonnie Trevino Jr., who shares this job with Chris Beall 50/50 – no foreign titles this time. In addition to an audibly more relaxed way of working in various Austin studios with different sound engineers, some ex-citing guest musicians were also brought in: guitarist Jacob Hildebrand (Deadman), the two keyboardists Daniel Creamer (Texas Gentlemen, Nikki Lane, Paul Cauthen) and Anthony Farrell (JJ Gray & Mofro, Greyhounds) and drummer Fred Mandujano (Deadman, Shinyribs) give some tracks the final spice. Through successful crowdfunding, the band was able to hire none other than the famous Steve Berlin for the producer job! The Los Lobos veteran (already a producer for such high-profile artists as Beat Farmers, Chuck Prophet, Leftover Salmon, Fabulous Thunderbirds, Fastball, Matt An-derson and Deer Tick) has once again done a great job and given the South Austin Moonlighters an overall earthy a more soulful, compact, "heavier" sound with a spe-cial emphasis on the rhythm section, but which also proves its suitability for ra-dio in the opener 'Nashville' or in the chorus-strong 'Box Of Memories' or in the title song – Texas radio style, of course ! Other tracks like 'Make A Livin', 'Then Away, Farewell', 'Faded Into Gray' and 'Deltaman' are dominated by shuffle, funk, soul crooning and swamp rock. Very ripe, high quality and completely convincing!